Outsourced Marketing Services
A Complete Marketing Team For Less Than The Cost Of One Unqualified Employee
Outsourced Marketing – An Efficient & Effective Way Of Marketing Professionally
Our range of professional outsourced services are designed to plug skills or knowledge gaps in your in-house team.
It may be that you have no dedicated resource to complete critical marketing activities
Perhaps marketing activities are delegated between a number of key people to do when they have a spare moment
Possibly you employ an office junior  who combines a range of administrative duties along with marketing
Whichever approach you adopt our expert outsourced marketing services free you up to do what you do best and ensure your business is marketed to its fullest potential and critically your sales and marketing activities are optimised.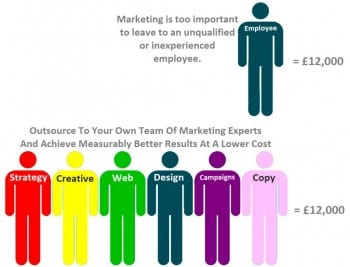 Imagine having access to all of these professional disciplines:
Marketing Director
Marketing Manager
Marketing Assistant
Marketing Metrics Analyst
Graphic Designer
Copywriter
Social Media Manager
Campaign Developer
Website Developer
Website updates
Online Manager
E Mail Marketer
For those without a marketing team we can
Work with you to develop a sales and marketing strategy
Execute the plan through innovative and highly creative tactics
Become an integral part of your business, delivering consistent, results driven and cost effective marketing.
Measure the impact of our marketing activities so that you can identify your ROI
Outsourced Marketing Services – A Complete Marketing Team For Less Than The Cost Of One Unqualified Employee
By using Blue Dolphin Business Dolphin as your outsourced marketing service you benefit from. Qualified and Experienced Marketing professionals who can help you clearly develop your Marketing and Sales Strategy. Once your strategy and plan is created a clearly defined marketing and promotional plan is created. This information is then briefed into the in-house creative teams who can design and build your website (and then importantly update and modify it) , create email campaigns that look great and get opened and design great looking adverts that get noticed.
For more information on outsourced marketing click here.  To contact a marketing and sales professional click here