Outsourced Marketing Services
A Complete Marketing Team For Less Than The Cost Of One Unqualified Employee
Outsourced Marketing – An Efficient & Effective Way Of Marketing Professionally
Our range of professional outsourced services are designed to plug skills or knowledge gaps in your in-house team.
It may be that you have no dedicated resource to complete critical marketing activities
Perhaps marketing activities are delegated between a number of key people to do when they have a spare moment
Possibly you employ an office junior  who combines a range of administrative duties along with marketing
Whichever approach you adopt our expert outsourced marketing services free you up to do what you do best and ensure your business is marketed to its fullest potential and critically your sales and marketing activities are optimised.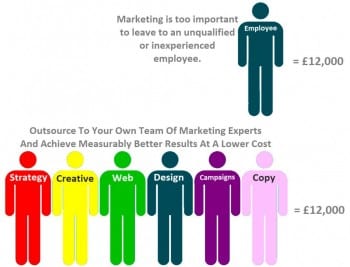 Imagine having access to all of these professional disciplines:
Marketing Director
Marketing Manager
Marketing Assistant
Marketing Metrics Analyst
Graphic Designer
Copywriter
Social Media Manager
Campaign Developer
Website Developer
Website updates
Online Manager
E Mail Marketer
For those without a marketing team we can
Work with you to develop a sales and marketing strategy
Execute the plan through innovative and highly creative tactics
Become an integral part of your business, delivering consistent, results driven and cost effective marketing.
Measure the impact of our marketing activities so that you can identify your ROI
Outsourced Marketing Services – A Complete Marketing Team For Less Than The Cost Of One Unqualified Employee
By using Blue Dolphin Business Dolphin as your outsourced marketing service you benefit from. Qualified and Experienced Marketing professionals who can help you clearly develop your Marketing and Sales Strategy. Once your strategy and plan is created a clearly defined marketing and promotional plan is created. This information is then briefed into the in-house creative teams who can design and build your website (and then importantly update and modify it) , create email campaigns that look great and get opened and design great looking adverts that get noticed.
For more information on outsourced marketing click here.  To contact a marketing and sales professional click here
Look at the orange image above.
Look at the wording and what do you read ?
With the wording opportunityisnowhere did you see
Opportunity Is Nowhere – a potentially negative statement
or
Opportunity Is Now Here – a potentially positive statement
Amazing how the same message could be seen in two significantly different ways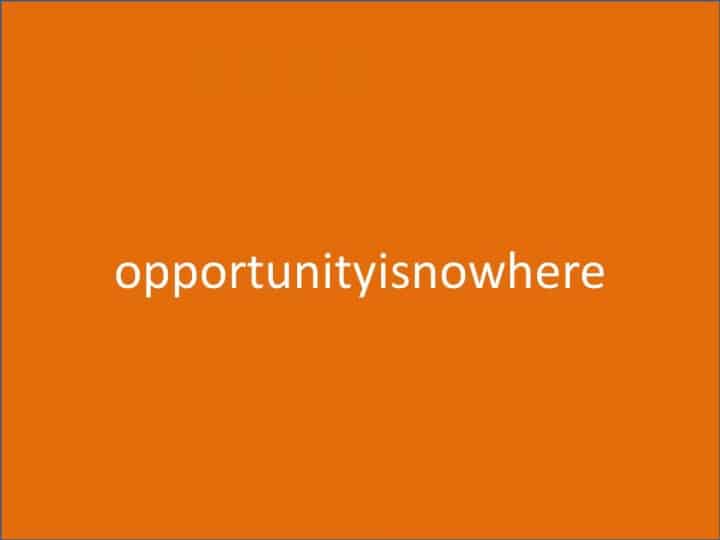 Think about your sales and marketing messages.
Are they clear and concise or is there potential for them to be misunderstood or misinterpreted.
If you have sales people how do you ensure that they all deliver a consistent message and importantly how do you ensure that customers who have receive have correctly understood.
Are Your Marketing Messages Clear
For more information on developing Sales and Marketing messages call Andrew Goode on 01733 361729 or click here For more information on marketing news and approaches click here
21 Customer Questions To Provide You With Business Insight
If you are looking at developing your business strategy, thinking about your competitors can help you consider an element of your business.
The list of 21 competitor questions will hopefully help stimulate your strategic thinking.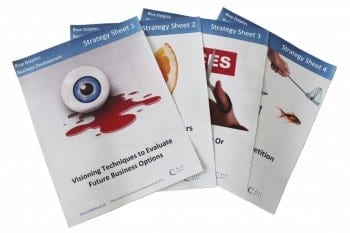 Try Answering These Questions About Your Competition.
What industry are you in?
Is this a good industry to be in?
What do customers think about your competitors?
What do you think about your competitors?
In what areas are you beating your competitors?
How else can you beat your competitors?
How do customers find out you are better than your competitors in these areas?
What problems do your products solve that your competitors' don't?
Are you serving the widest possible market?
How good are your competitive positions?
What do you do differently from your competitors?
What's the difference between your customers and your competitors' customers?
How can you find out what your customers think about your competition?
Do you compare reviews of your products to those of your competitors?
How can you encourage your competitors' customers to switch to your company?
How can you get in contact with your competitors' customers to tell them why they should switch to you?
Which clients are driving you mad?
Maybe you should suggest they go to your competitors?
Who is your most serious competitor?
Who are currently just new/minor threats?
What would your closest rival do if they took over your business?
Do You Know Your Competitors Competition
The above questions are designed to provide a stimulus for thinking. For more information on how to get business insights that will help you develop your business strategy please call Andrew Goode on 01733 361729 or click here
Note: If you are looking at developing a business strategy for growth we may be able to access Government funding to help you develop your business. To keep up to date on any funding initiatives click here
A Sporting Analogy In Relation To Coaching
As a high performing tennis player Andy Murray like most world class tennis players has a complete team of coaches
A nutritional coach who purely focuses on what Andy is eating and drinking to maximise performance and energy levels
A technical coach who purely focuses on positioning, timing and technique
A fitness coach who ensures that throughout the pre and competitive season optimum fitness is maintained and injuries are managed
As a business Owner 7 Reasons To Consider A Coach
 If you believe that the business will suffer if you are not there all the time
If you feel you are married to your business and that it demands all working hours
Your business does not generate enough profit to justify your efforts
You have fallen out of love with your business
You have a lot of business experience however you haven't fully invested in yourself
You have lost sight of where your business is going and why
Because you are already good and recognise that's its going to take a bit extra to become outstanding
Who Makes A Good Coach
Have relevant business experience
Have experience in a range of industry sectors
Proven track record of success in coaching
Have qualifications or affiliations
Have glowing recommendations and testimonials
Personable with good rapport and listening skills
Naturally inquisitive, daring and motivated
Has previously coached businesses similar to yours
Wont compromise always looking for win / win situations
Is excellent at asking the right questions
So Why Wouldn't You Have A Coach?
7 Reasons To Consider A Coach
If your business is looking to achieve serious growth after hitting a glass ceiling then a business coach could be the just whats needed to help you break through to the next level. For more information on coaching and other business improvement approaches click here. To Talk to an experienced business coach click here