Outsourced Marketing Benefits
A Complete Marketing Team For Less Than The Cost Of One Unqualified Employee
Outsourced marketing services refers to the practice of hiring an external company or individual to handle certain aspects of a business's marketing efforts. This can include tasks such as market research, advertising, public relations, and digital marketing. In this article we look at outsourced marketing benefits.
Outsourced marketing can be a cost-effective solution for businesses that do not have the resources or expertise to handle these tasks in-house. It can also be an effective way for companies to access specialized skills and knowledge that they may not have within their organization.
There are different types of outsourced marketing services available, including:
Outsourced marketing can be beneficial for businesses of all sizes, as it allows them to focus on their core operations while still maintaining a strong marketing presence. However, it's important to choose a reputable company or individual with the necessary experience and skills to effectively support your business's marketing efforts.
Outsourced Marketing Benefits – An Efficient & Effective Way Of Marketing Professionally
Marketing is a crucial aspect of any business, but it can also be a time-consuming and resource-intensive task. Outsourcing marketing services is a strategy used by many companies to improve their marketing efforts and achieve their business goals.
In this article, we will explore the various benefits of outsourcing marketing services and how they can help companies of all sizes achieve success. We will also look at how outsourcing can help companies access specialised expertise, save costs, improve results and better allocate resources.
By understanding the potential benefits of outsourcing marketing services, companies can make informed decisions about their marketing strategies and achieve greater success.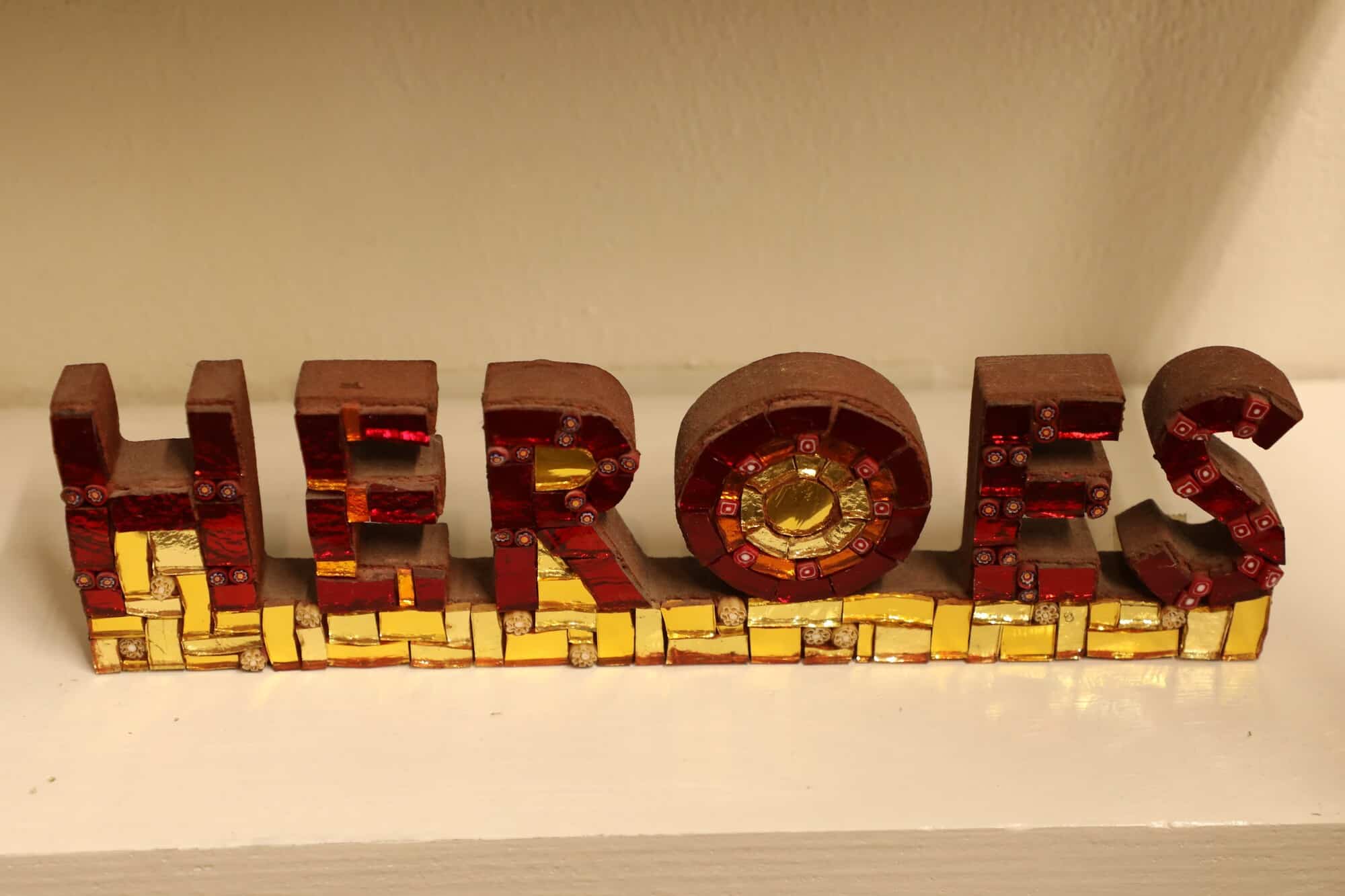 Benefits of Outsourced Marketing Services
There are several benefits of outsourced marketing services, including:
Cost savings: Outsourcing marketing tasks can be more cost-effective than hiring a full-time employee to handle them.
Access to expertise: Outsourced marketing firms often have specialized knowledge and experience in areas such as social media marketing, search engine optimization, and data analysis.
Flexibility: Outsourced marketing services can be scaled up or down as needed, allowing companies to respond quickly to changing market conditions.
Time savings: Outsourcing allows companies to focus on their core competencies, rather than spending time and resources on marketing tasks.
Improved results: Outsourced marketing firms can bring new ideas and fresh perspectives to a company's marketing efforts, leading to better results.
Better resource allocation: Companies can devote more resources to core business operations by outsourcing marketing functions.
Access to latest technology: Marketing agencies are in a better position to adopt and utilize the latest marketing technology, which can provide a significant boost to a company's marketing efforts.
In conclusion, outsourcing marketing services can provide a range of benefits for companies of all sizes. By leveraging the expertise, cost savings, flexibility and time savings of an outsourced marketing firm, companies can improve their marketing efforts, better allocate resources and access the latest technology.
Outsourced marketing services can also bring fresh perspectives and new ideas to a company's marketing efforts, leading to better results. As the market changes and technology evolves, outsourcing marketing services can be a valuable strategy for companies looking to stay competitive and achieve their business goals.
Want to pick up the phone and speak to us about your Website project?

Call us on:
01733 361729
mail:
solutions@bdolphin.co.uk
Imagine having access to all of these professional disciplines:
Marketing Director
Marketing Manager
Marketing Assistant
Marketing Metrics Analyst
Graphic Designer
Copywriter
Social Media Manager
Campaign Developer
Website Developer
Website updates
Online Manager
E Mail Marketer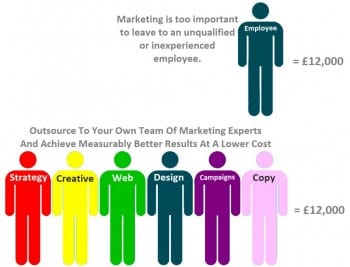 Our range of professional outsourced marketing services are designed to plug skills or knowledge gaps in your in-house team.
It may be that you have no dedicated resource to complete critical marketing activities
Perhaps marketing activities are delegated between a number of key people to do when they have a spare moment
Possibly you employ an office junior  who combines a range of administrative duties along with marketing
Whichever approach you adopt our expert outsourced marketing services free you up to do what you do best and ensure your business is marketed to its fullest potential and critically your sales and marketing activities are optimised.
For those without a marketing team we can
Outsourced Marketing Services – A Complete Marketing Team For Less Than The Cost Of One Unqualified Employee
By using Blue Dolphin Business Dolphin as your outsourced marketing service you benefit from. Qualified and Experienced Marketing professionals who can help you clearly develop your Marketing and Sales Strategy. Once your strategy and plan is created a clearly defined marketing and promotional plan is created. This information is then briefed into the in-house creative teams who can design and build your website (and then importantly update and modify it) , create email campaigns that look great and get opened and design great looking adverts that get noticed.
For more information on outsourced marketing click here.  To contact a marketing and sales professional click here
How to outsource your marketing department
As the owner of a business, one of your most crucial investments will be the money that you allocate for marketing.
You could have the best company, product or service, in the world but without effective marketing, your business is likely to struggle and grow. If your company is unable to sustain its own marketing team, outsourcing your marketing services can be cost-effective and a successful way to bolster your marketing efficiency. In a nutshell, what you need, is an outsourced Marketing Director.
So how do you outsource your marketing department
The first step in outsourcing is to determine that it is the best option for you. Normally, this will be because you are busy, or your time is better spent on other activities or because marketing is just not your 'thing'. We find this is particularly true of manufacturing and engineering companies
If you've done a skills review or looked over your budget and decided that outsourcing your marketing is the best move for your business, you can begin to look for marketing agencies / web agencies.
Many digital marketing companies offer a wide range of marketing services that you can pick and choose from, as well as customise, to ensure that you are getting the right marketing services for your company. In this article, we'll help you consider the most important factors in moving your marketing to a specialist agency like Blue Dolphin Business Development.
The Benefits of Qualified Marketers
It can be very beneficial for an SME business to have qualified marketing professionals on their team. Marketing is an essential component of any successful business, regardless of its size, and having skilled marketing professionals can help an SME business in several ways.
First, marketing professionals can help an SME business to identify its target market and create effective strategies to reach and engage with that audience. They can help the business to develop a strong brand identity and messaging that resonates with its target audience, and to create marketing campaigns that are effective in driving sales and revenue.
Second, marketing professionals can help an SME business to keep up with the ever-changing landscape of digital marketing, which is becoming increasingly important for businesses of all sizes. They can help the business to develop a strong online presence through social media, search engine optimization (SEO), and other digital marketing channels.
Finally, having qualified marketing professionals on staff can help an SME business to save time and money. By having experienced professionals who can develop and execute effective marketing strategies, the business can avoid costly mistakes and focus its resources on initiatives that are most likely to drive growth and success.
Having qualified marketing professionals on staff can be highly beneficial for an SME business, helping it to develop effective marketing strategies, maintain a strong online presence, and save time and resources.
Selection criteria for choosing an Outsourced marketing agency
Cost comparisons are crucial when it comes to searching for a marketing agency. Remember though, as with so many services, you get what you pay for. Whilst there are agencies out there that may be as cheap as chips, don't expect them to grow your business rapidly or form a deep understanding of your business.
What you should look for in a marketing agency is 'bang for your buck', i.e. given the budget you have and the growth you want to see, which agency is the best fit for your brand?
Make sure to engage with a few companies before you settle for the one that you are going to trust with your business. Ask for a menu option of services that the company offers, even if you don't want them all to begin with, it is easier to grow with a trusted agency than to move when you get too big for them. Services that should be available:
If it's not a full service marketing agency (like Blue Dolphin) and is missing any of these, they are likely not to be rounded enough for the needs of your modern, growing business. Just because someone owns a laptop and can crank out social media posts, doesn't mean they are a credible source of marketing.
Which outsourced marketing services should you choose?
The services that you contract to an agency depend on what you can and cannot cover in-house. For instance, if you have somebody in the office that can manage all forms of relevant social media (posting on LinkedIn, Facebook, Instagram etc), then consider cutting that from your agency needs and requirements.
You have to be realistic about what your limits are. There is nothing worse than marketing that is done inconsistently. If you feel that your current employees will not be able to handle the demands of one of your marketing services in addition to their daily activities, then it is wise to outsource. You get the guarantee that work will get done and, ultimately, the sanction of transferring your business elsewhere if it is not.
If you're not sure what you and your team can handle, be upfront about this when you start sounding out agencies. Take advantage of any free audits and consultation services and ask them to tell you what is worth outsourcing and what is not. A good agency, like Blue Dolphin Business Development, will be honest about where you need help and where you have it covered.
Some really important about outsourced marketing
The nature of marketing is that some marketing techniques will work wonders for your business, while others just won't.
You want to work with a marketing agency that you have confidence in. One that will bring you success whilst recognising that, at least in the early stages, there has to be an element of experimentation to see what works with your audience in your market.
While you are starting out don't be surprised if you're plagued with a lot of uncertainty.
You won't know how the agency will deliver and how your marketing presence will be affected. To bolster your confidence in the agency you should, at the very least, get a monthly report outlining what work has been done on your account, for what reason (i.e. what outcome were they after for the work done), the results they've had and their recommendations for the coming months.
You should also agree upfront with your agency the overriding targets of the contract. If you have not explicitly agreed these at the start of your relationship there will likely be problems down the line. As the client, you are in charge of setting these big strategic marketing objectives, which might include:
Make sure to attach actual numbers / percentages to whatever you choose, so there is a measurable target in place. Not only will this let you evaluate the results of each month and decide if their marketing services are worth the money, but it will also help you set your initial budget. For example, you won't be setting £3k per month aside for marketing if your target is to grow profits by £1k per month!
If you believe that another agency could grow your numbers and boost your engagement even further, cut off the contract at the end of the month and go elsewhere. The last thing you want to do is to tie yourself into a partnership that is simply not working or meeting your marketing needs. When you get to know your agency better and start seeing strong results, you will be able to adjust your contract and extend for longer periods at a time.