A Nine Step Formula To Help Your Business Grow Over The Next 12 Months
If your business is looking for growth over the next 12 months the following 10 points may provide guidance to help you with the break through inspiration you have been looking for.
In the article we consider
Planning
Focus
Clarity
Readiness
Opportunities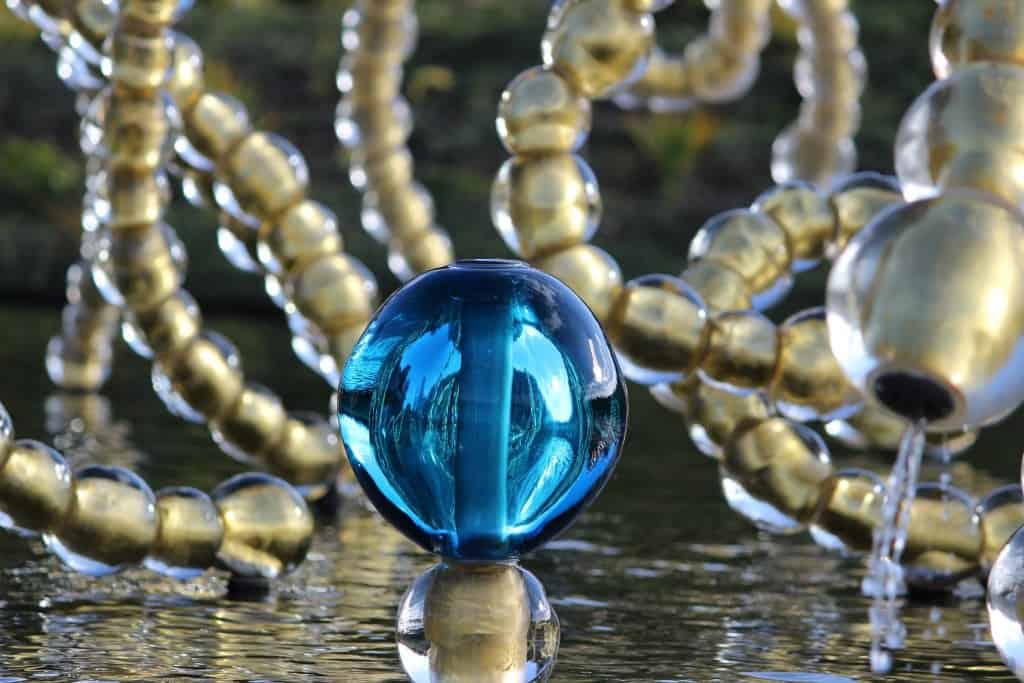 Step 1: Ditch the business plan
The two inch thick detailed plan that is produced, filed to collect dust and then never be read is of no use to any business. The sales and marketing action plan that you develop for your business should
Get all the readers / employees inspired
Create an actionable strategy
Be a living and breathing document that is always on the desk and at the forefron of all those making strategic decisions
Be alive, recognising that things change and so must the document
Clearly identify the business goals and sales expectations
Step 2: Stop / Think / Focus
Its very easy to get caught up in the daily work load and issues of your business. The saying "you need to work on your business as well as in your business" holds very true.
With your business
Work out whats in the business for you
What is needed to get the business working for you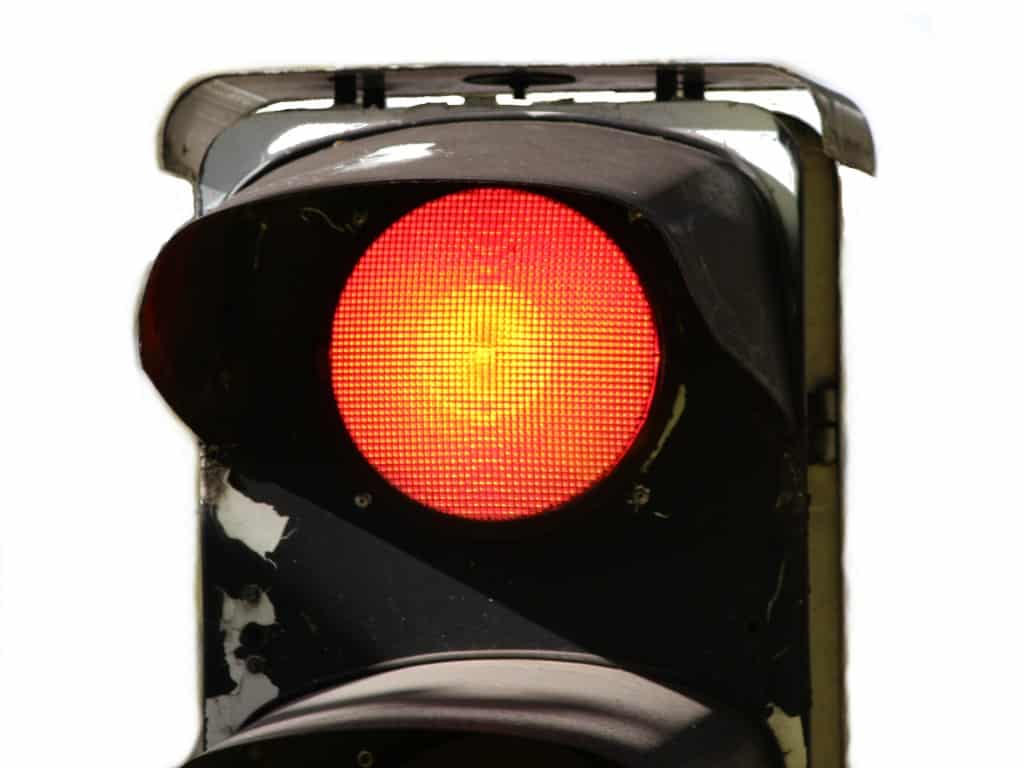 Step 3: Build Your Business On Firm Foundations
What is important to you
What are your business drivers
Have you shared values with employees, if so is there a common sense of purpose
Step 4: Be Clear About What Business Are You In
Think beyond your product or service
What are they actually buying
Why are they buying it
Black & Decker – sell holes ; Bentley sell Prestige
Step 5: Are You Ready To Achieve A Breakthrough Growth
Step out of the row
Be clear of vision and focus
How big is the opportunity
Create a visionary goal
What does your business vision look like?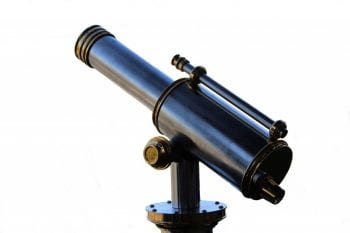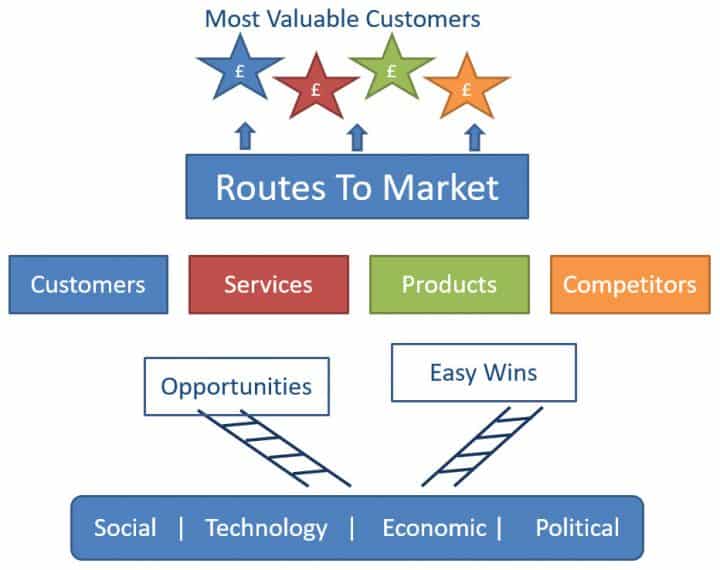 Step 6: There Are Opportunities Everywhere
PEST (Political, Environmental, Social and Technological) factors impact on our business. As they say the only thing that stays the same is change
Step 7: Stand Out From The Crowd
It is no longer good enough to be just like the competition. You must be better or different if you are going to avoid just competing on price. So you need to ask
What makes us different (Differentiation focus)
What makes us better (Niche Focus)
Does it pass the "So What" test (That's why I would pay more)
Step 8: Surround Yourself With The Right People
Stay out of the owners trap

Owner does the selling
Owner offers too many things
Owner only person capable of delivery
Owner interferes with customers

Recognise your limitations
Build people around the business (not the other way round)
Involve them and share news
Step 9: Empower Your People
Share the challenges
Get their inputs and ideas
Use their input constructively
Give them ownership of the strategy
Retain, Retrain, Release, Recruit, Recognise and Reward
A Nine Step Formula To Help Your Business Grow Over The Next 12 Months
For more information on business development and approaches to help your business grow click here or call 01733 361729 . To talk to a Marketing and Sales expert click here
HR Information Systems – Are You In Control Of Your Employees
Every company as it grows and starts employing more and more people gets to the situation where it needs HR Information Systems. The transition from a few employees where simple a spreadsheet (or even a shared diary / wall planner ) can be used to effectively manage employees HR issues disappears once you reach a certain size.
Even the simplest of HR issues like holidays can be a management drain or challenge and if not resolved correctly create personal and cultural issues significantly bigger than the original issue. In this article we look at additional reasons why HR Information Systems can be beneficial.
Applications of HR Information Systems
There a multiple reasons to implement HR Information systems and in this article we look at monitoring abscence whether planned or unplanned
Monitor Absence – Sickness or Holidays
It is critical to monitor the time that employees have away from a business. Whether its through formalised pre booked holidays (do you know exactly how many days holiday everybody in the company is taking. Perhaps you have directors who are taking significantly more time off than they should but its not being recorded. What about key employees who are saving up holidays in order to take a 6 month holiday in a few years time. Or the situation that many manufacturers find themselves in whereby holidays cannot be taken at certain parts of the year, meaning that where holidays aren't carried over there is suddenly a mad scramble for everybody to use their holidays to avoid losing them.
So if holidays are tricky then monitoring sickness or absence can be even harder. How do you currently log when a member of staff has time off through illness and doesn't come in. What if an employee feels poorly whilst at work and goes home. Even more difficult what if you have employees who a frequently off ill, or have a long term illness. Monitoring and managing absence can become a compliance issue and suitable HR Information Systems will help with the process.
Tender Writing Services – Write Killer Proposals
If you are running a business, do you need help writing a compelling winning tender?
In a highly competitive environment perhaps you're not winning as many tender contracts as you would like. Whatever your tender writing support needs, there are many specialist companies or highly talented individuals who can help.
In this article we consider the issue and benefits of using full outsourced tender writing services, having training in tender writing and considering pre-sub-mission evaluation and feedback.
Tender Writing Services Options Available
Even after the significant cuts to the social care budgets and after numerous years of efforts to drive service users towards the use of personal budgets. Combined with a growing self-funder market, it remains that local authorities are still the dominant purchasers of social care provision within most regions. Therefore the ability to engage with the local authority's often complex tender processes is usually the only way to achieve significant business growth in this market.
Take into account that contract opportunities may only come up every three to five years and it becomes critical to get it right if you are to thrive or survive. There are numerous so called experts in social care business development who will indicate they have extensive experience in tender writing services.
Many tender services providers will have written winning tenders for supported living, home care, learning disabilities, extra care, housing-related support, and many other niche areas of the sector.
When looking for a tender services expert look for a provider whose services are client-centred and tailored to your needs and who can work with you to achieve the outcomes you wish to achieve. It may be that you wish to do the tender writing yourself or prefer the tender writing services to be completed for you.
How To Give The Perfect Pitch
If you are trying to convey a new idea to the board, or make a sale to a new customer then it could be beneficial to know How To Give The Perfect Pitch.
It is likely that you are going to be trying to grab the audiences attention and certainly provide a memorable experience.
Quite possibly you might be competing / presenting against others and the basis for moving forward or being declined will be based on this single pitch. It therefore makes sense to use all the approaches and techniques to make your pitch perfect.
Some Basic Principles
Keep it simple
Create a memorable structure
Maintain eye contact
Smile
Start with a greeting "Hello"
Set out your stall – "What we are going to do cover …" absolutely spell it out
Interaction is vital – don't just provide a list of content and make sure the presentation is two way
Don't add more
Edit the presentation ruthlessly
Keep it conversational, jargon free – consider it like having a chat with your audience
Make sure you have back up plans (what happens if your main presentation format fails)
If you are doing it in PowerPoint make sure you have great pictures
Creating a memorable structure
Start Big
Use stories
Finish big

Just think about a James Bond film where they get straight into the action
Get Your Head Right Before You Present
Convince yourself that you are going to do well and you will
Convince your audience that the idea you are presenting is perfect for them
be present in the room and engage with the audience
If you have a mixed audience of experts and novices – pitch the complex in a simple way
Manage Your Customer And Prospect Database?
How well do you manage your customer and prospect database
It has often been commented that one of the attributes that helps increase the value of a business is the quality of its list. So How Well Do You Manage Your Customer And Prospect Database?
Managing the prospect list is critical if potential future opportunities are to be progressed effectively.
Being aware of what your customers are doing, buying, communicating with will allow you to manage them and ensure that customers don't move from live to lost.
Evaluate How Well Do You Manage Your Customer And Prospect Database?
To determine how well you manage your customer and prospect list, answer the ten questions below. For some businesses it may be that the question is not applicable but most manufacturing or B2B companies will answer either positively or negatively.
How Well Do You Manage Your Customer And Prospect Database?
If you answered mainly "Yes" that great if you answered honestly its unlikely that a prospect will slip through your pipeline, or a customer will be forgotten or misplaced. Its also likely that you are using a CRM (Customer Relationship Management) system.
If you answered mainly "No" then your business may be suffering as you are missing out on up sell / cross selling opportunities to customers. Additionally it may well be that prospects are ineffectively managed and conversion rates could be improved.
Database characteristic

Yes

No

N/A

1.     Prospects who you meet (at networking, events, visit the shop etc) have their details immediately captured and logged into a system
2.     Prospects receive a proactive communication a few day as after initial contact
3.     Communication can be personalised depending upon the status of the customer
4.     Prospects can be graded depending upon perceived potential
5.     Prospects who eventually purchase (even if it's only a low value item) can be re-categorised
6.     Customers who make frequent purchases can be easily identified
7.     The database is regularly cleaned and prospects / customers we no longer want to deal with (no potential etc) are removed
8.     The database can be easily interrogated to identify prospects / customers of specific segments
9.     It's easy to update as contact details change
10. If a customer list is purchased this can be easily integrated
Would Your Business Benefit From A Coach
For those people who want to perform better a coach (or range of coaches) are often seen as a suitable approach. Think of Andy Murray over the past few years he has achieved levels of world class performance. Now whilst its Andy who is on the tennis court, he has a team of specialist coaches including Technical. Physical and Nutrition who are able to help and advise. None of these coaches can play tennis as well as Andy but they can all help Andy to play a better game of tennis.
So could you or your business benefit from a coach. In this article we will consider if you have some mindsets that are holding your business back.
Is your business performance held back because
You believe that your business will suffer if you are not there all the time, taking a holiday is simply out of the question
You have a sense that you are married to your business and it demands all your working hours
Your business doesn't generate enough profit to justify your efforts
You have lost passion for your business
You have a lot of business experience however you haven't really invested in yourself
If you have answered YES to any of the above then you could probably benefit from thinking about business coaching.
Areas that coaching can explore
Environment: Is it your business environment that's holding your business back
Behaviours: What are the habits within the company, is their a positive or moaning culture. Perhaps your the person doing all the whinging and moaning
Capabilities: Is the company equipped with the skills and expertise, additionally can you be bothered
Beliefs & Values: Are these consistent throughout the company