With a new product range available in the UK a new website was required to showcase the various product options available. With no marketing collateral available Blue Dolphin worked with the UK Dahon team to get product imagery. This was then used to design and build the new website and on exhibition materials. Blue Dolphin acted as the lead for all content marketing to ensure the site was completed on time.
DAHON bikes unfold the world around you, with two wheels and all kinds of ingenious technology. Suddenly 'too far' or 'too big' is not the issue, and the question becomes 'where to next?' Go the extra mile, your way. Folding bikes come in all variations to fit right on into your lifestyle, be it the urban commute, where you fold right on up into the office, or a weekend away with bikes for the family all stashed in your trunk. DAHON folding bikes are among the most compact in every class (16″, 20″, 26″), folding into neat, easy-to-store and transport rectangles with no protruding parts. A DAHON folding bike 16″ reduces to the size of a shopping bag and fits under a bus seat or in an airline luggage bin; two 16″ and two 20″ folders fit side-by-side in the trunk of most midsize cars. Dahon 26″ models are the most compact of their class.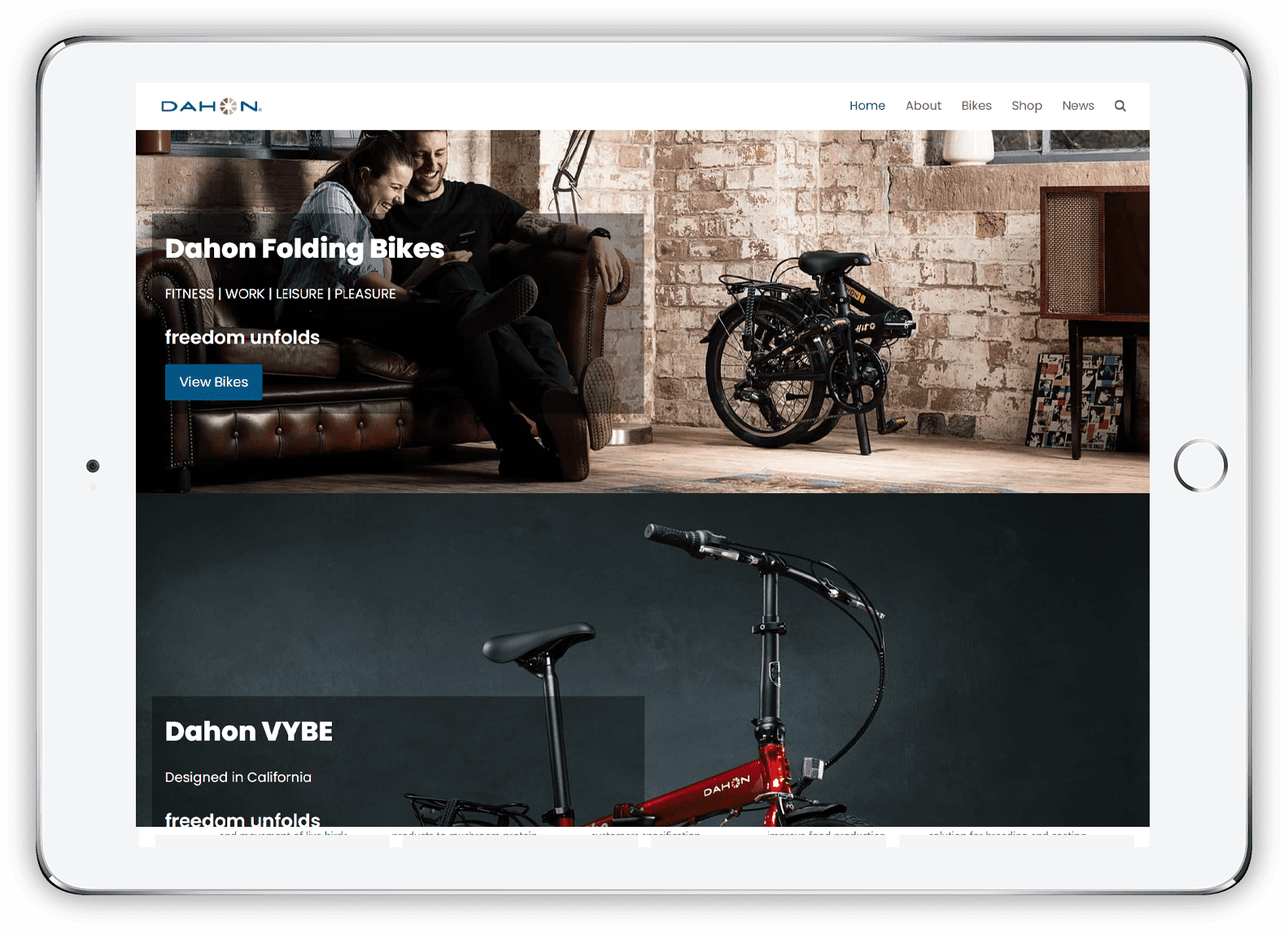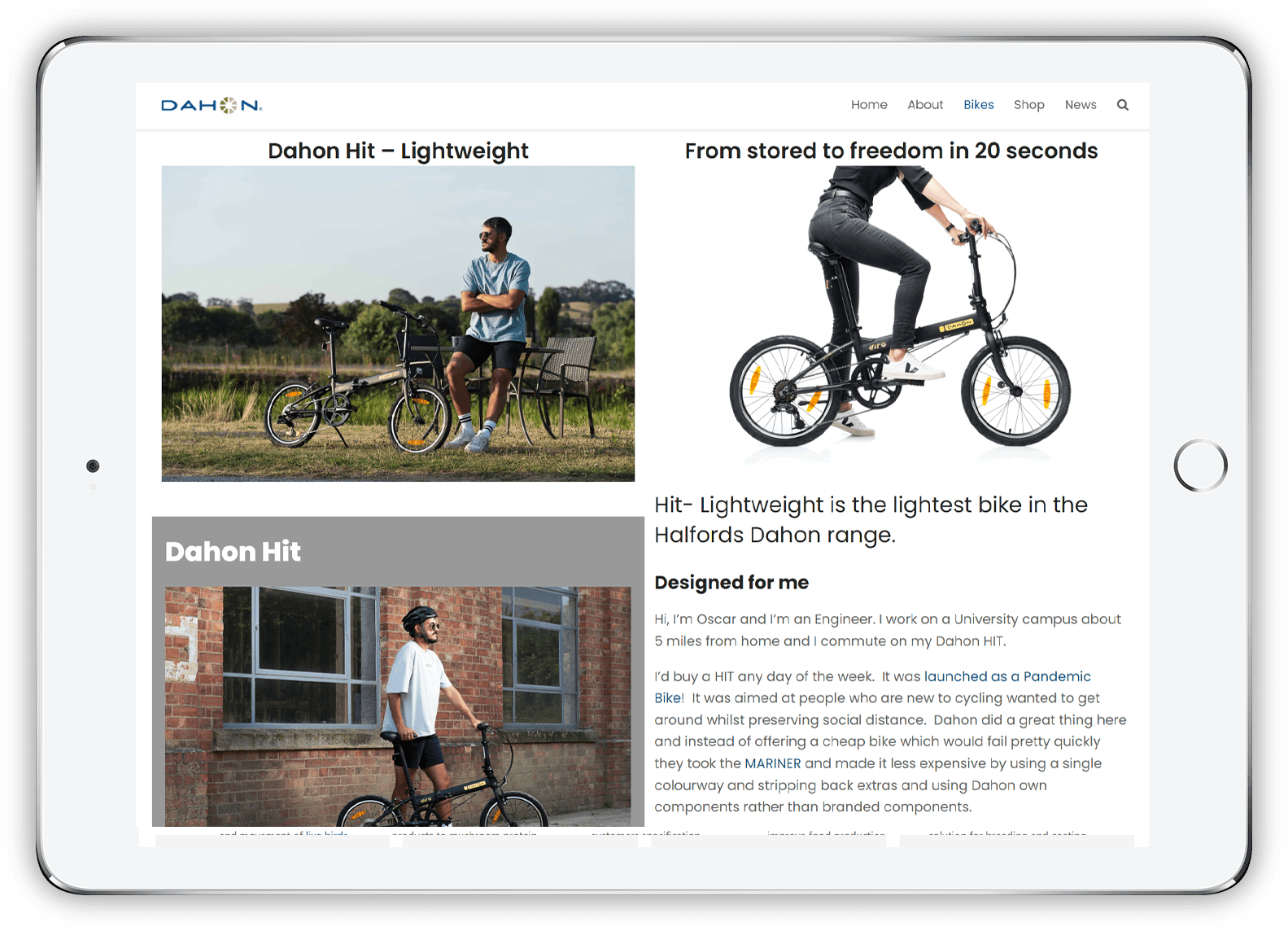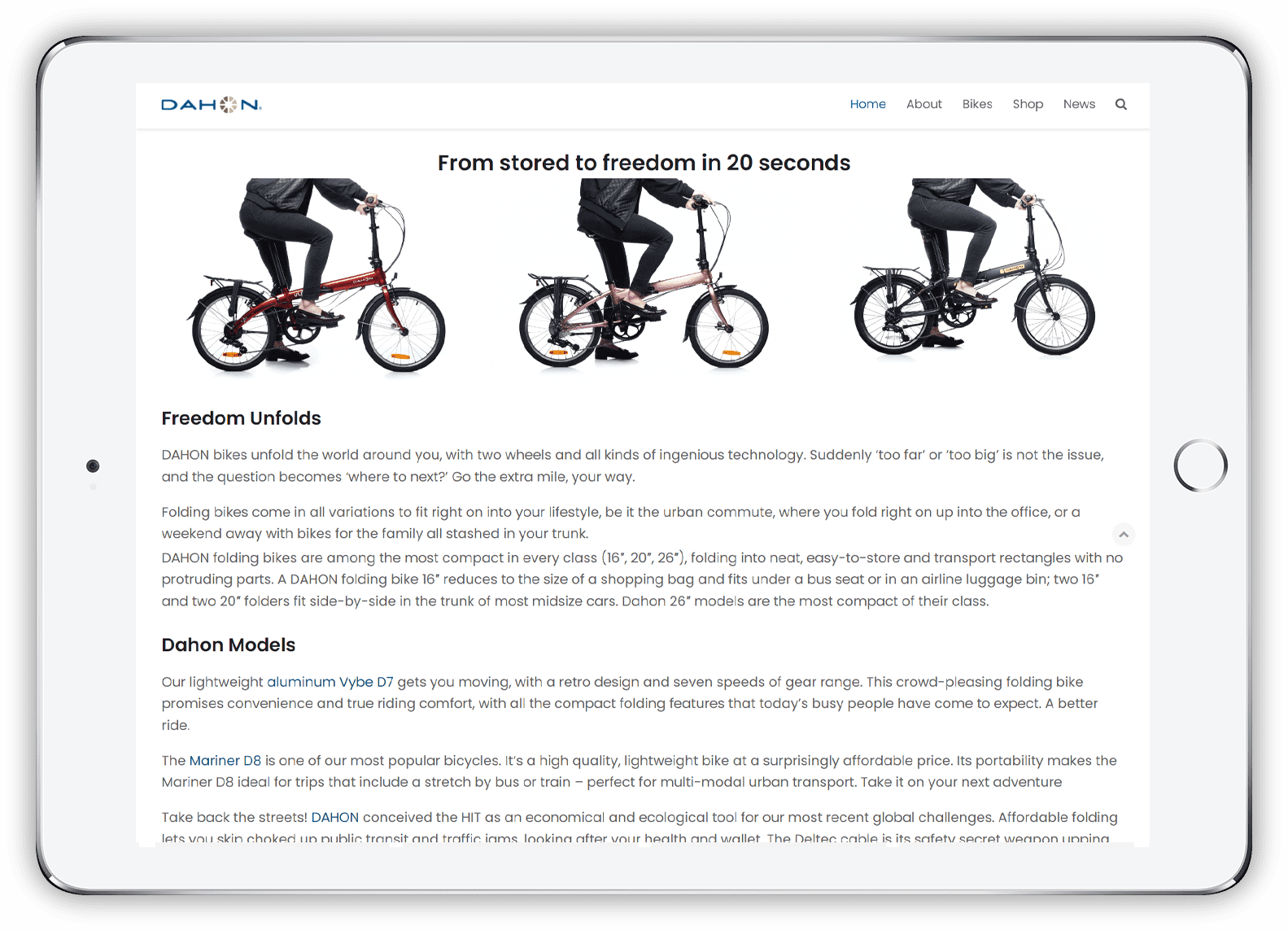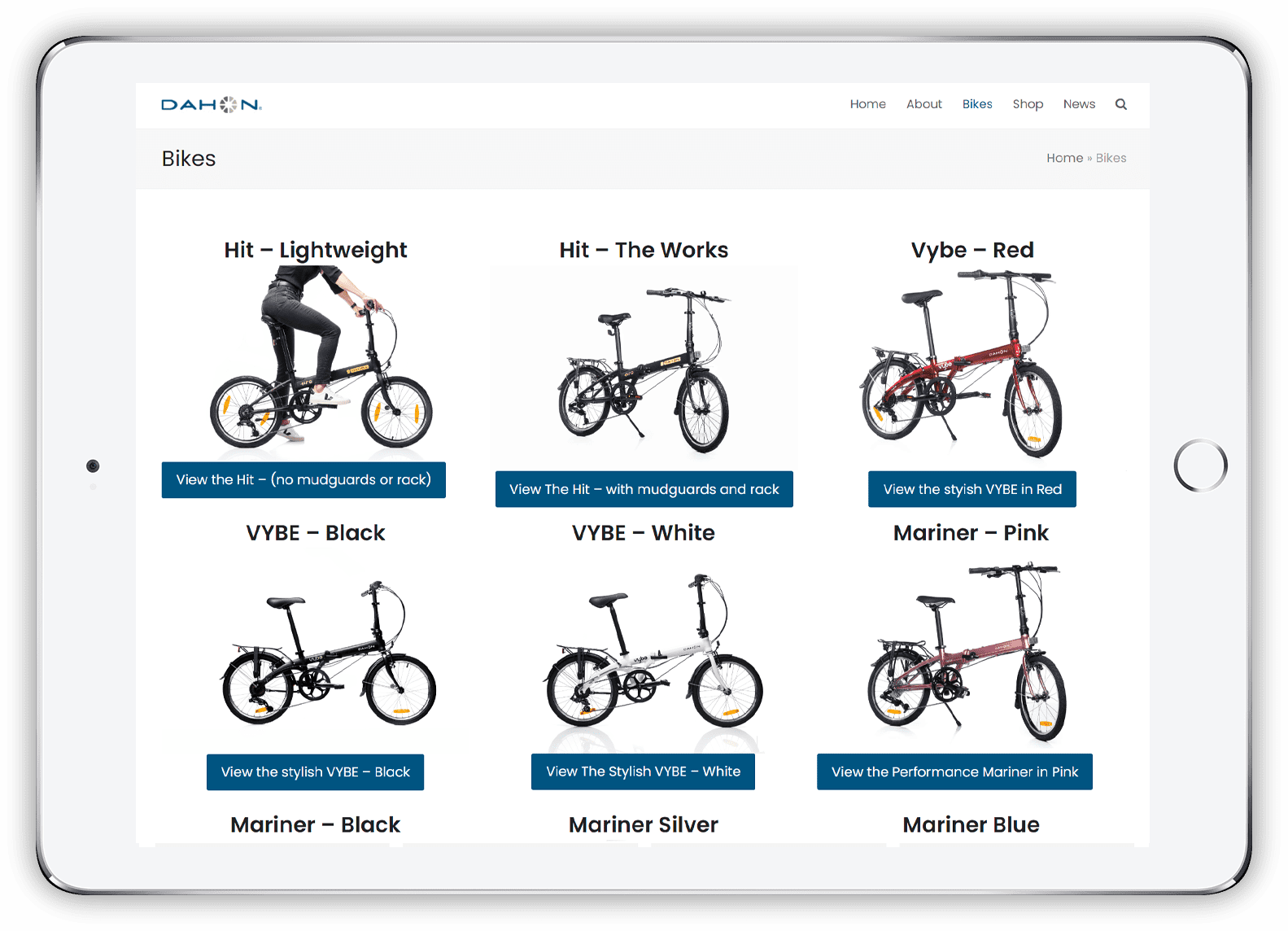 No Images
For ecommerce high quality product images are crucial. The US images were either unsuitable or unavailable for use. By scheduling a number of intensive studio and off site days we were able to capture both product and lifestyle images of all bikes in all colours. These images were shot in high resolution format meaning that they were suitable for exhibition panels, printed materials and the web
Simplifying the folding process
Once you can demonstrate to a customer how simple a Dahon folding bike is to use, they can easily understand how simple and convenient they are. How can you show this when the customer is viewing the bikes online. By creating some videos we were able to showcase the bikes from folded to rideable
Which bike to choose
On first impression with, with no knowledge all folding bikes look the same. It was important within the website to be able to showcase the differences and benefits of the various models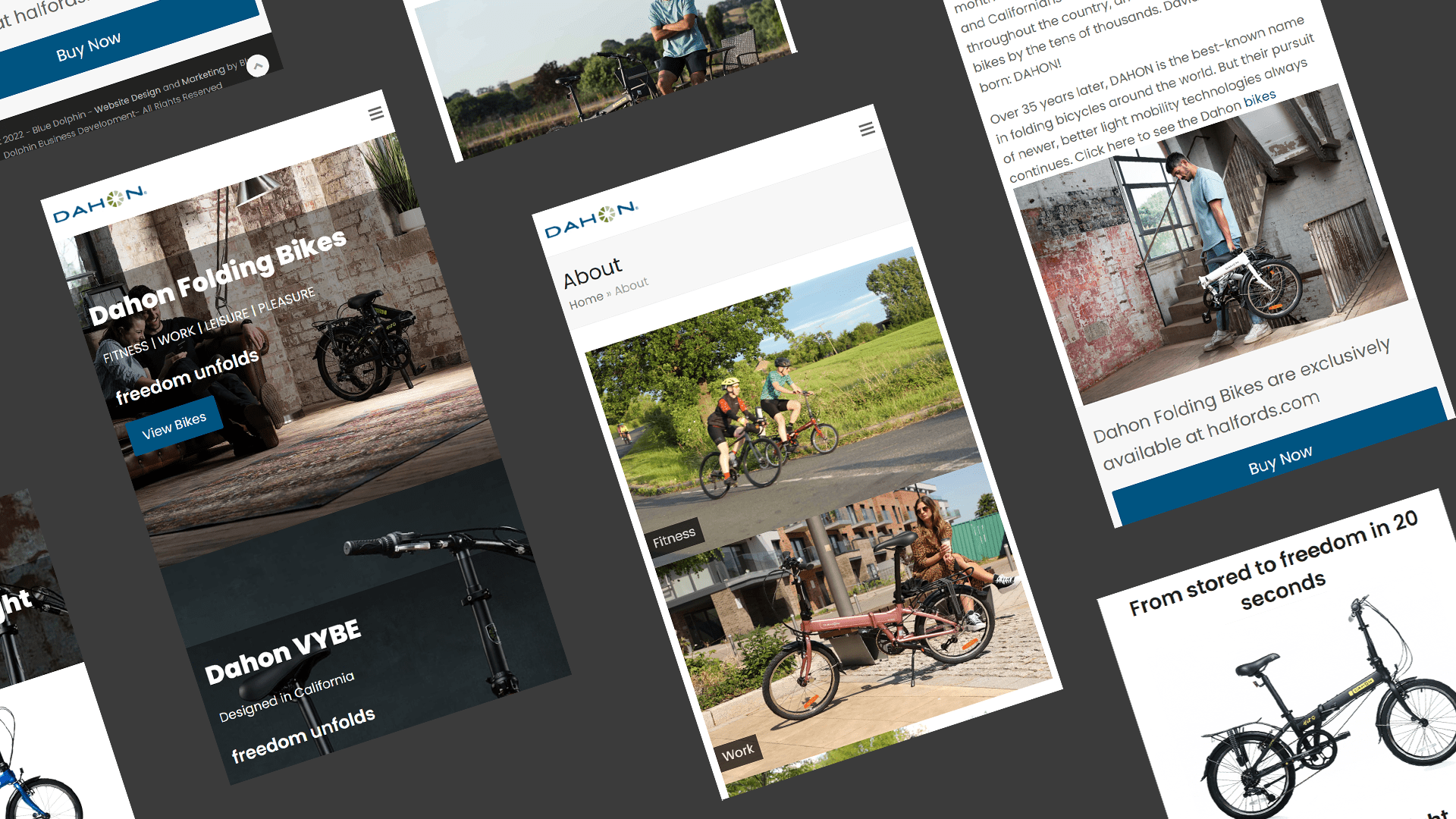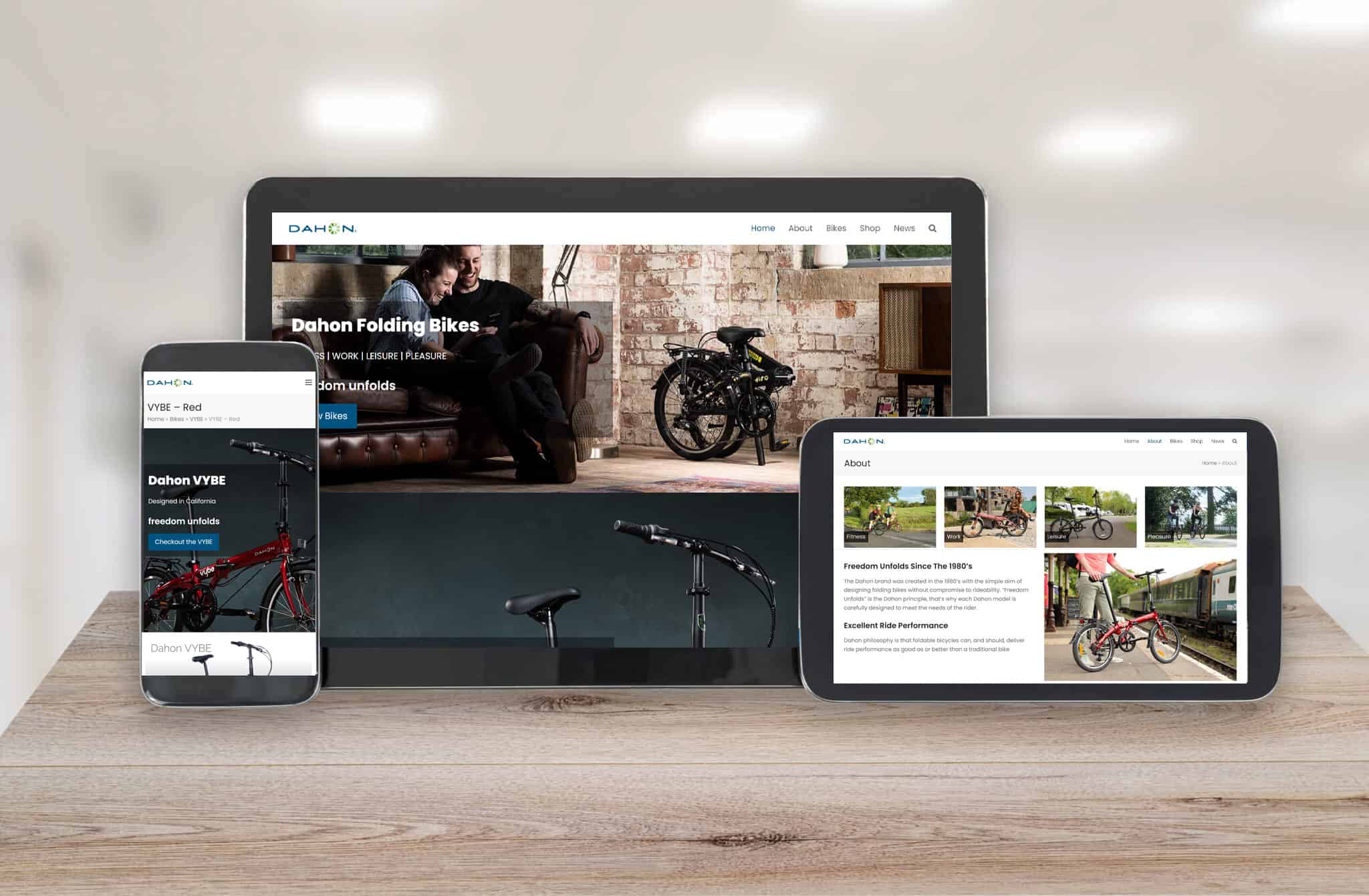 Some of the benefits provided by the new website
Fully responsive website – mobile and desktop onsite time increased
Simplified menu structure increases click through
Increased number of quality online enquiries
Current vacancies click through to aid staff recruitment during growthWebsite gained very positive response from customers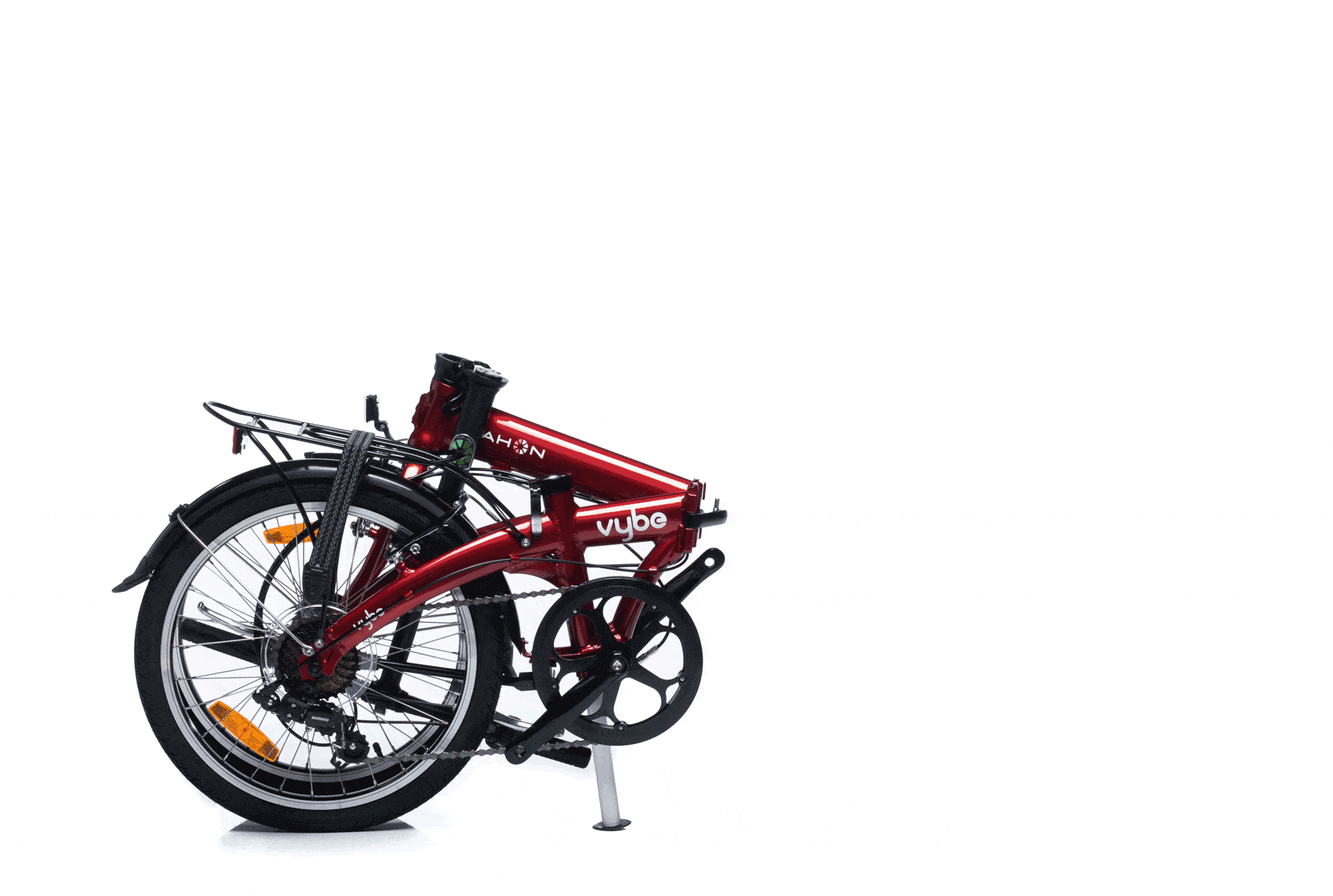 "We sit down with Andrew explore the brief and let them get on with it, I know that with Bliue Dolphin I feel like we are in safe hands. They never fail to come up with great ideas, great execution and getting the job done on time and to budget. Even when we throw curved balls into the project midway, they get the results we need. Its refreshing to work closely with a marketing company who know digital and traditional marketing and who communicate in a jargon free way"
Malcolm Smith – UK Sales Director
Benefits of Dahon Folding Bikes
Dahon folding bikes have gained significant popularity in recent years, and for good reason. These innovative bicycles offer a range of benefits that set them apart from traditional bikes, making them a practical and versatile choice for various types of riders.
One of the primary advantages of Dahon folding bikes is their unparalleled portability and convenience. Unlike traditional bikes, folding bikes can be easily compacted into a much smaller size, allowing riders to carry them onto public transportation, store them in small apartments, or even tuck them into the trunk of a car. This feature makes them ideal for urban commuters who often need to combine biking with other modes of transportation, as well as for those who have limited storage space at home.
Furthermore, folding bikes promote a seamless integration of biking into various aspects of daily life. Their compact design enables riders to bring them into buildings, offices, and cafes without the need for locking them up outside. This not only reduces the risk of theft but also eliminates the hassle of finding appropriate bike racks. In urban environments where theft is a concern, this benefit can significantly enhance the overall biking experience.
Folding bikes also excel in terms of versatility. They are not limited to a single terrain or riding style, as they come in various models suitable for different purposes, including city commuting, touring, and even off-road adventures. This adaptability makes folding bikes a great choice for riders who want to explore a variety of cycling experiences without having to invest in multiple traditional bikes.
For individuals who are concerned about their fitness levels or simply want to incorporate more exercise into their routine, folding bikes provide an incentive to do so. The compact nature of these bikes encourages spontaneous rides for short distances, which can add up over time and contribute to a healthier lifestyle. Additionally, the convenience of owning a folding bike may motivate people to use them for errands and short trips that they might otherwise have taken by car.
In terms of storage, folding bikes shine once again. Many traditional bikes require dedicated storage space, such as a garage or bike shed. Folding bikes, on the other hand, can be easily stored indoors, reducing the risk of exposure to weather elements that can lead to premature wear and tear. This extended lifespan adds to the overall value of the investment in a folding bike.
While both traditional and folding bikes have their merits, the unique benefits of folding bikes make them an attractive choice for a diverse range of riders. Their portability, convenience, versatility, and integration into daily life make them an excellent option for urban commuters, recreational cyclists, and anyone seeking a more flexible and accessible cycling experience.