Marketing Ideas For Manufacturers To Improve Their Websites
Marketing Ideas For Manufacturers
Having a website is crucial for manufacturers for several reasons. Firstly, it allows manufacturers to establish an online presence that is essential in today's digital age. A website serves as a platform for manufacturers to showcase their products, services, and expertise to potential customers. It provides an opportunity for manufacturers to communicate their unique selling proposition, which helps to differentiate them from their competitors. In addition, a website allows manufacturers to reach a global audience, expanding their customer base and increasing their revenue. In this article we look at marketing ideas for manufacturers to improve their websites.
Secondly, a website enables manufacturers to provide detailed product information to potential customers. By including comprehensive product specifications, features, and benefits, manufacturers can help customers make informed purchase decisions. This is particularly important in the manufacturing industry, where customers require detailed technical information to understand the capabilities of the products they are interested in. Furthermore, a website provides a platform for manufacturers to showcase their product innovation, research and development, and industry expertise, which can enhance the manufacturer's reputation and credibility.
Lastly, having a website enables manufacturers to generate leads and support their sales efforts. By providing contact information and a clear call-to-action, manufacturers can encourage potential customers to get in touch and learn more about their products and services. Manufacturers can also offer free trials or demos of their products on their websites, which can attract new customers and generate interest. Additionally, by including sales collateral, such as product brochures and case studies, on their websites, manufacturers can better educate potential customers about their products and services, which can help support their sales efforts. Overall, having a website is an essential tool for manufacturers to establish their brand, generate leads, and support their sales efforts.
In this article we will look at marketing ideas for manufacturers and will specifically focus on how these ca link to a manufacturers website
1: Show your contact details
One of the key actions that visitors frequently complete when visiting a website is to look for contact details
A crucial piece of information that should be easily visible on every page of your website is your telephone number
Good practice is to have in the top right hand corner of every page
Enhancements to this include perhaps having a tracking phone number that is different to your new main switchboard number. This way you can identify how many people who are new to the site "call"
On your website should be a contacts page, on this page why not have a google map that makes it easy for visitors to find your offices
If you have multiple offices or sites the web is a great tool for having a Find Closest Site Location where you can search by postcode / distance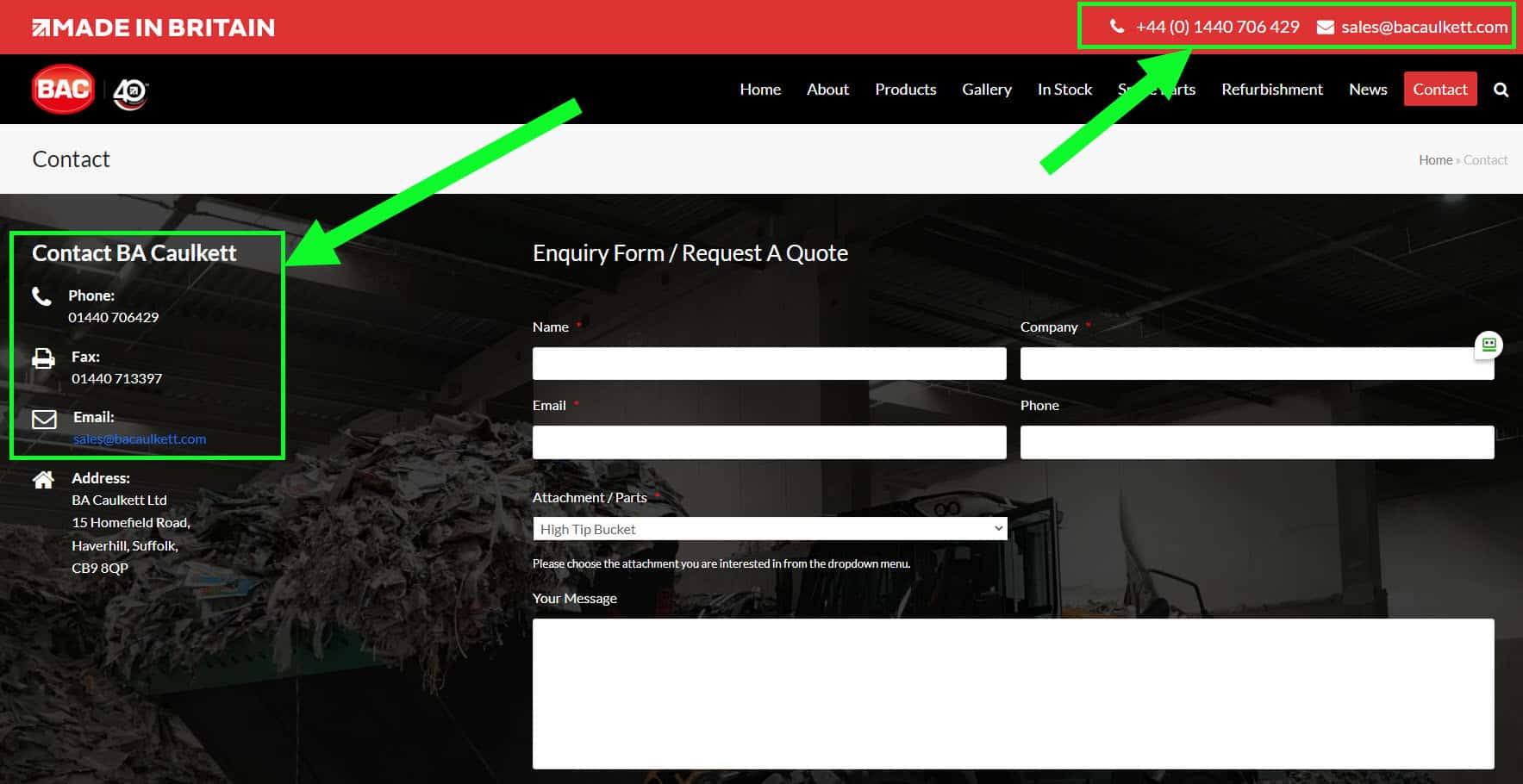 2: Call to action and data-capture
Many manufacturers websites are purely passive devices (essentially an on line brochure) .
If people have come to your site then that potentially means that they are interested in your product / service.
Therefore an ideal approach is to have mechanisms on your site that will encourage a visitor to take action.
By creating a high value offer you might be able to get visitors to leave their details (name / email / phone) which will then allow you to directly communicate on a one to one basis
3:  It's not just about the homepage
The home page of your website is important.
Its the page that people who know about you (they have your business card / have received an e mail from you which features your website url ) will visit first
We find that homepages receive lots of attention in their development but the inner pages are less well designed. Typically only fifty percent of visitors will land on your homepage so when a visitor lands elsewhere what impression does your website provide
4: Produce Manufacturing Content For Each Stage Of The Buying Process
Inbound marketing focuses on creating valuable informative (educational) content that draws people towards your manufacturing website. You need need content to drive qualified buyers to your website, so lets look at some of the best content marketing ideas for industrial, engineering and manufacturing companies.
The challenge is to create marketing information and content that helps buyers do their jobs.  Now these industrial buyers could be a fresh faced first year procurement manager, or a been there and done it twenty five engineer. So how do we create content that will be relevant and keep the audiences attention. With inbound marketing the process is generally broken down into 3 elements
Education – where they research their challenges or explore an opportunity
Evaluation – they begin investigating different options
Conversion – they choose a company to do business with
Top of funnel content marketing ideas
The top of the funnel is the first stage where you begin to establish a rapport with the visitors who have landed on your website, hopefully by way of organic SEO and Technical SEO programs. At this stage they are searching for top level information about specific services and products and need answers to questions, or want a possible fix to a pain / problem that they're experiencing.
You need to provide helpful and informative content to as many of these people as possible. Ideally the content will be so good and so valuable they will be enticed into filling out a contact form and providing you with valuable information. Below are some top of funnel content ideas to implement.
1: Blog Posts
Blog / News posts are the most common form of content marketing, with different posts serving different purposes. For buyers at the top of the funnel, you want to provide educational content that simplifies complex concepts into useful insight.
This post from BA Caulkett about High Tip Bucket Selection Criteria is a great example, providing helpful, expert-level information in a very accessible way. Combining both written content and helpful imagery
2: 101 Ebooks
When you want to tackle a topic in more depth and provide something more substantial than a typical blog post, an eBook can be a great tool. Wrightfield a manufacturer of conveyor systems does this well with their Food Processing Improvements eBook. They provide an in-depth but easy-to-understand look into the capabilities, processes, and 5 ways to improve food production efficiency which would help anyone investigating the topic.
3: Factory Tour Videos
Ideally a real on site factory tour would be available to check out a potential manufacturer.  Where this isn't possible providing a video tour of their factories or plants helps showcase their processes and capabilities and adds a human element to help build a connection. Your factory tour video should be published on your home page, about us page and contact us page as well as on social media channels.
4: Embrace Social Media
Social media doesn't seem an obvious choice to most industrial companies and manufacturers as a platform that helps engage Business to Business customers. This is an aspect especially in todays modern manufacturing world with a new generation of younger engineers as marketing involves being everywhere your buyers are.
It's important to understand that if you're just starting out on social media, you might not see leads being generated  right away, because building a network takes time. By being active on social media helps you increase your brand profile and increase traffic to your website. Your content on social media ( LinkedIn, Twitter, Instagram etc) should be informative and entertaining simultaneously and always include a link back to your website. Being consistent is crucial, don't post corporate messaging one week, fun content the next week, and sales content the following week.
Each social media platform has its own purpose, make sure you adjust your content accordingly. Buyers browsing on Instagram are not looking for the same content on their LinkedIn feed. Understanding your buyer's persona and behaviour will help you create the most relevant and appropriate content they're searching for.
A challenge with social media platforms is that they are often revising their platforms. Therefore a social media strategy you used successfully last year might not be effective now. Additionally whereas with your website you own and have complete control of the content and can ensure it is shown, with 3rd party social media the power of display lies with them.
Marketing Ideas for Middle Of Funnel Content
As with all funnels the top is the widest (after all there are more people at the top of the funnel). For B2B buyers the evaluation phase typically takes the longest to progress through, therefore the middle of the funnel is often the deepest.
This is the opportunity to build on your initial relationship, develop trust, and start to showcase what differentiates you from your competitors with a variety of valuable content. Note: we don't want content to appear like an advert, the key focus at this stage is to provide helpful information.
5: Case Studies
A great way to help win new customers is to show how you've helped your existing ones. By having a series of robust case studies can highlight your track record of success can be tremendously helpful in this regard.
6: Industry Specific Content
Create industry specific website pages that target the key markets you work in and those you continuously want to do business with. For example, buyers in the aerospace industry are concerned with inaccurate data, counterfeit parts and incomplete quotes.
Large companies with complex supply chains have issues of value and importance that go beyond what your online presence may list. You're current and historic customer list can be a deal-breaker when reviewing new suppliers. Alleviate their concerns and ensure they're partnering with a quality supplier by publishing website pages labelled specifically for an industry (like Food, Pharma and Textile) that detail your product data, sizing dimensions, performance curves, etc.
Marketing Ideas To Convert Leads Into Customers (Bottom of Funnel)
As prospects move down the funnel "metaphorically" with your content you get the chance to convert prospects to customers and close the sale. Well at least get them to the point that they seriously want to discuss purchasing your products or services because they can see the benefits you provide.
7: Spec Sheets and brochures
At this stage specification sheets and brochures focused on your products and services are therefore critically important.
Wrightfield a designer and manufacturer of conveyor systems for the food processing industry has detailed brochures and specification sheets for their different product lines. They are featured throughout the website in specific areas as well as on a single tab
8: Product Videos
Videos have become an increasingly critical component in the content marketing arsenal. They can increase your ROI, and in fact, now account for about 82% of all online traffic.
Therefore its not surprising that more manufacturers and industrial companies are using video marketing to increase their brand awareness and help put the human element back into marketing.
Videos make it easier for buyers to understand complicated industry topics and services. Companies like Ultimate hardware use video to educate viewers on the details of their products showcasing how to operate and assemble products
9: Calculators Customised To Specific Applications
Custom calculators help B2B prospects make better data-informed decisions. As the buyer enters their data into the calculator, you can see the information on their end which enables you to be better equipped for customer support and sales conversations.
Shown is a price change calculator which provides valuable information to a prospective user
Business Development Factors In Manufacturing
Is It Always Correct To Look For Lowest Unit Cost In Manufacture?
Many manufacturing companies when looking to reduce the unit cost of their components looked to move manufacture overseas to lower cost areas. This originally provided them with 4 key benefits
Cheaper labour costs
If they were exporting they were potentially closer to the market
The improvement to productivity
Other factors including lower trade barriers
Over Time Things Change
When considering the above historic benefits it is important to review the longer term situation
Over time the labour cost savings have reduced as the overseas countries have become wealthier and salaries etc have increased savings from 14% to 11%. It is estimated by some that China wages will increase 12% between 20111 and 2030 and that wages will double in places like Poland and the Philippines within this time frame
The additional benefits available from actually manufacturing the product on site / locally have become better known i.e. Innovation improvements and the ability to add value
As with all business development there should be a focus on the "Total Cost Focus" not just piece cost. Otherwise there are far too many incidental costs that get missed – flying / quality). Some economists now suggest that the China cost advantage is now only 5%
The challenge of productivity, effectiveness and brand
The UK is currently in the productivity doldrums and appears to be going backwards. In the sphere of Innovation the UK is leading the way. There are numerous examples of how UK innovation has a significant impact from unique cutting tool technologies that can be utilised to save hours on cutting turbine components through to techniques that dramatically reduce the time to diagnose diabetes eye treatment.
In a global world the importance of brand is ever increasing The Made In Britain strap line carrying increased significance. From a marketing and business development perspective are we getting to the point where made in the UK is now more of an advantage than a 5% unit cost advantage.
3 marketing ideas an SME manufacturer could use to improve the performance of their website
Content Marketing: Create Engaging and Informative Content Developing high-quality and relevant content is essential for improving the performance of a website. Consider creating a company blog or resources section on your website where you can share valuable information related to your industry, products, and services. Focus on addressing common pain points or providing solutions to your target audience's problems. This will help establish your SME manufacturer as an industry expert and build trust with potential customers. Additionally, optimise your content for search engines to increase organic traffic to your website.
Social Media Engagement: Build a Strong Online Presence Leverage social media platforms to engage with your target audience and increase brand awareness. Identify the platforms that are popular among your target market and create profiles on those platforms. Regularly post engaging content, including product updates, industry news, behind-the-scenes glimpses, and customer success stories. Encourage your followers to share, comment, and interact with your content. Engage in conversations, respond to queries, and provide customer support promptly. Utilise social media advertising options to reach a wider audience and drive traffic to your website.
Implement Conversion Optimisation Strategies: Improve User Experience and Conversion Rates Optimising your website for conversions can significantly enhance its performance. Start by analyzing your website's user experience (UX). Ensure your website is visually appealing, easy to navigate, and mobile-friendly. Streamline the purchasing process by minimising the number of steps required to complete a transaction. Incorporate clear calls-to-action (CTAs) throughout your website to guide visitors towards desired actions. Implement A/B testing to experiment with different layouts, designs, and copy to identify what resonates best with your audience. Analyse website analytics and user feedback to continuously refine and improve your website's performance.
These marketing ideas should be tailored to your specific target audience, industry, and business goals. Regularly monitor and measure the results of your marketing efforts to identify what strategies are most effective for your SME manufacturer's website.
Marketing Ideas For Manufacturers To Improve Their Websites
Manufacturers can improve their websites by implementing effective marketing strategies that attract potential customers and increase engagement. Firstly, manufacturers can create compelling product videos that showcase their products and highlight their features and benefits. Videos can be embedded on the manufacturer's website and social media platforms to attract and engage potential customers. Videos are an effective way to demonstrate the functionality of the products, and can help customers visualize how the products work. Manufacturers can also create explainer videos that describe complex technical information in an easy-to-understand format.
Secondly, manufacturers can implement search engine optimization (SEO) strategies to improve their website's visibility on search engines. By optimizing their website for relevant keywords and phrases, manufacturers can increase their website's ranking on search engine results pages. This can help potential customers find the manufacturer's website more easily when searching for specific products or services. Additionally, manufacturers can improve their website's user experience by optimizing website speed, ensuring mobile responsiveness, and providing high-quality content.
Lastly, manufacturers can leverage social media platforms to promote their products and engage with potential customers. Social media platforms such as LinkedIn, Twitter, and Facebook can be used to share product updates, industry news, and customer success stories. Manufacturers can also use social media to answer customer queries and respond to feedback. By regularly posting engaging content on social media platforms, manufacturers can increase their brand awareness, improve their website traffic, and ultimately drive more sales. Overall, by implementing effective marketing strategies, manufacturers can improve their website's visibility, engagement, and conversion rates.
For more information on marketing ideas for manufacturers websites click here. To contact a professional marketer with expertise on manufacturers websites click here
If you would like to know more about Customer Lifetime Value contact Andrew Goode MBA, MSc, FCIM Click here to arrange a call
Other articles linked with marketing metrics that may provide additional insight. Marketing metrics and analytics, marketing ROI Planning , marketing revenue analytics and Marketing Measurement Metrics and Website Design