Digital Caricatures Be Seen Differently
Digital caricatures provide an interesting alternative to traditional pen and ink caricatures or a well shot photograph. Luisa Calvo is possibly the best digital caricaturist in the UK. With a Cambridge art school background, Luisa is a leading well travelled UK caricaturist and pioneer of digital caricatures, keeping up with all the latest technology and happily taking on new and exciting challenges.
This has certainly proved useful over the pandemic when corporate events, trade shows and domestic hospitality events ( weddings) came to a halt.
Luisa has used her caricature skills to create a new market opportunity. After being supplied with good quality photographic images she is able to create a digital caricature to any required style.
Have your team members caricatured as Superheroes, characters or sporting superstars. So if you have a highly skilled, non photogenic teamand would like to have their images on your website or promotional materials then a themed digital caricature could be the solution
The Digital Caricatures Process
Contact Luisa for a quote with a description of your requirements.
Send your happy smiling photos through as JPEG attachments by email.
Approve your colour digital caricature – it's very easy to amend digital caricatures, as they are saved in layers …and your satisfaction with the finished artwork is of the utmost importance!
Once approved, you will be sent a Dropbox link with the high res image/s.
You can then upload the high res artwork file to a photo printing website to order an impressive canvas print online.
To see more digital caricature examples click here .
The caricature image shown is Rex the Schnauzer, the company security system. With pet sales increasing significantly during the pandemic, whilst some industries and sectors contracted. New markets and opportunities became available.
Other articles that you may find beneficial include Web Marketing Benefits, Website Marketing Planning and the Top 5 Small Business Website Marketing Tips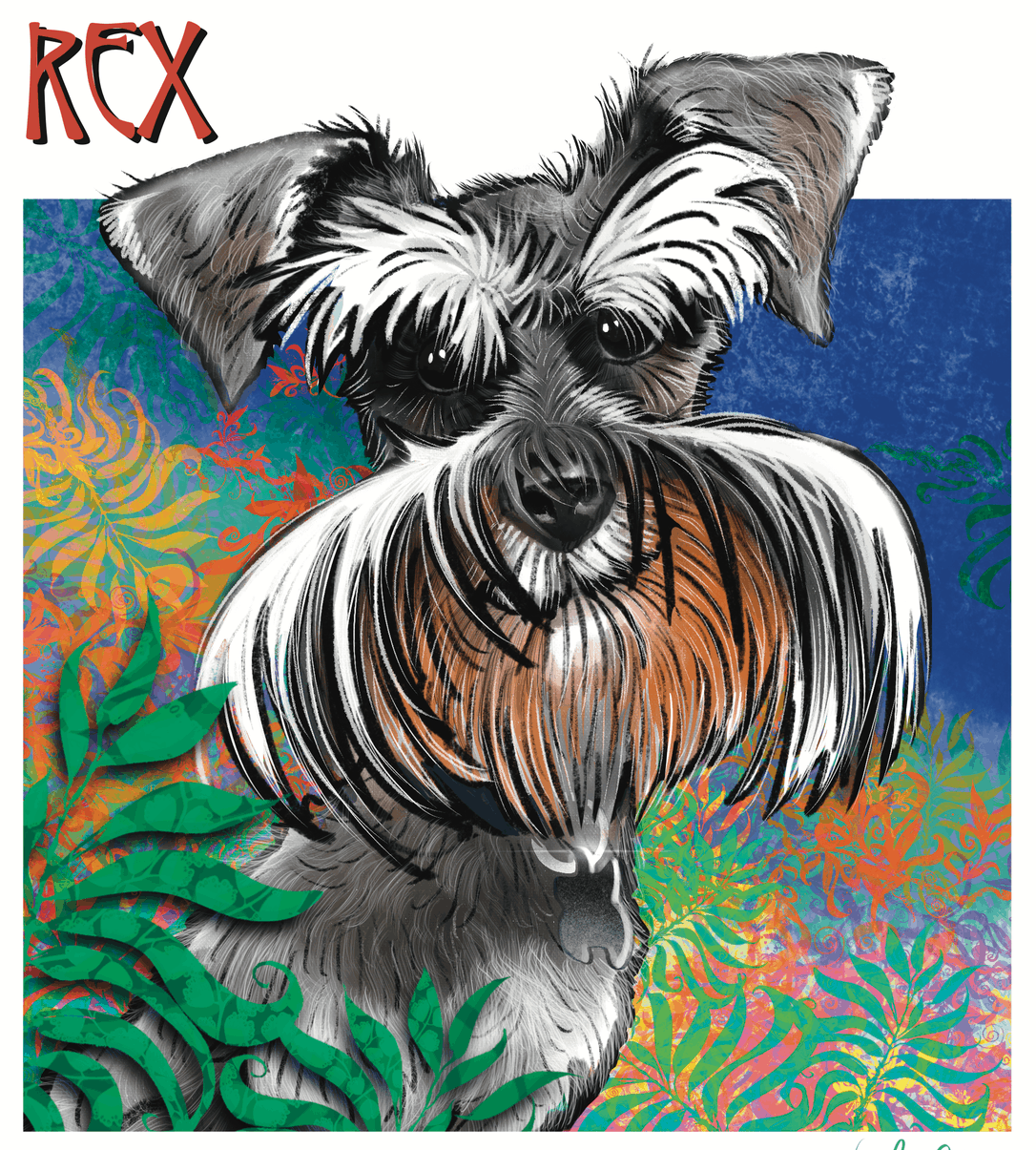 Digital Caricature Advantages
Digital caricatures are a form of digital art that involves creating a humorous or exaggerated portrait of a person using digital tools such as a drawing tablet, software programs, and a computer. Like traditional caricatures, digital caricatures exaggerate the subject's prominent physical features, mannerisms, or personality traits to create a humorous or satirical representation of them.
One of the advantages of digital caricatures is that they can be created quickly and easily, making them a popular form of entertainment at events such as parties, weddings, and corporate events. A digital caricature artist can create a caricature of a person in a matter of minutes using a digital drawing tablet and a computer, and then print or share the image with the subject.
Digital caricatures can be created in a variety of styles, from simple line drawings to more detailed and realistic digital paintings. They can also be customized with backgrounds, props, and text to create a personalized and unique image.
Traditional or Digital Caricatures
Digital caricatures and traditional pen and ink caricatures are both forms of caricature art, but there are some key differences between the two.
One of the main differences is the medium used to create the caricature. Traditional pen and ink caricatures are created using pen and ink on paper, while digital caricatures are created using a digital drawing tablet and software.
Another difference is the level of detail and shading that can be achieved. With digital tools, it is often easier to create a greater level of detail and to use a wider range of colors and shading techniques than with traditional pen and ink. Digital tools can also make it easier to make changes or corrections to the image, as it can be easily edited on the computer.
In terms of convenience and speed, digital caricatures have the advantage of being able to be created quickly and easily, with the ability to print or share the image with the subject almost immediately. Traditional pen and ink caricatures, on the other hand, can take longer to create, and the final product must be scanned or photographed in order to be digitally shared or printed.
Overall, both digital and traditional pen and ink caricatures have their own unique advantages and artistic qualities. It often comes down to the personal preference of the artist and the needs of the client or event.