Marketing – Dare To Be Different
Getting heard today can be incredibly difficult. With so much "noise" around and so many marketing and promotional messages intruding our business and personal space how do you make sure that your marketing gets noticed. In a congested market sector now may the time with your marketing, dare to be different.
Now you might not be lucky enough to have a golden egg that looks dramatically different from all the other white eggs in the market place.
Communicating messages that look just like your competitors might not be enough to get you a sales enquiry.
In this article we will look at some of the marketing approaches that might help get you noticed.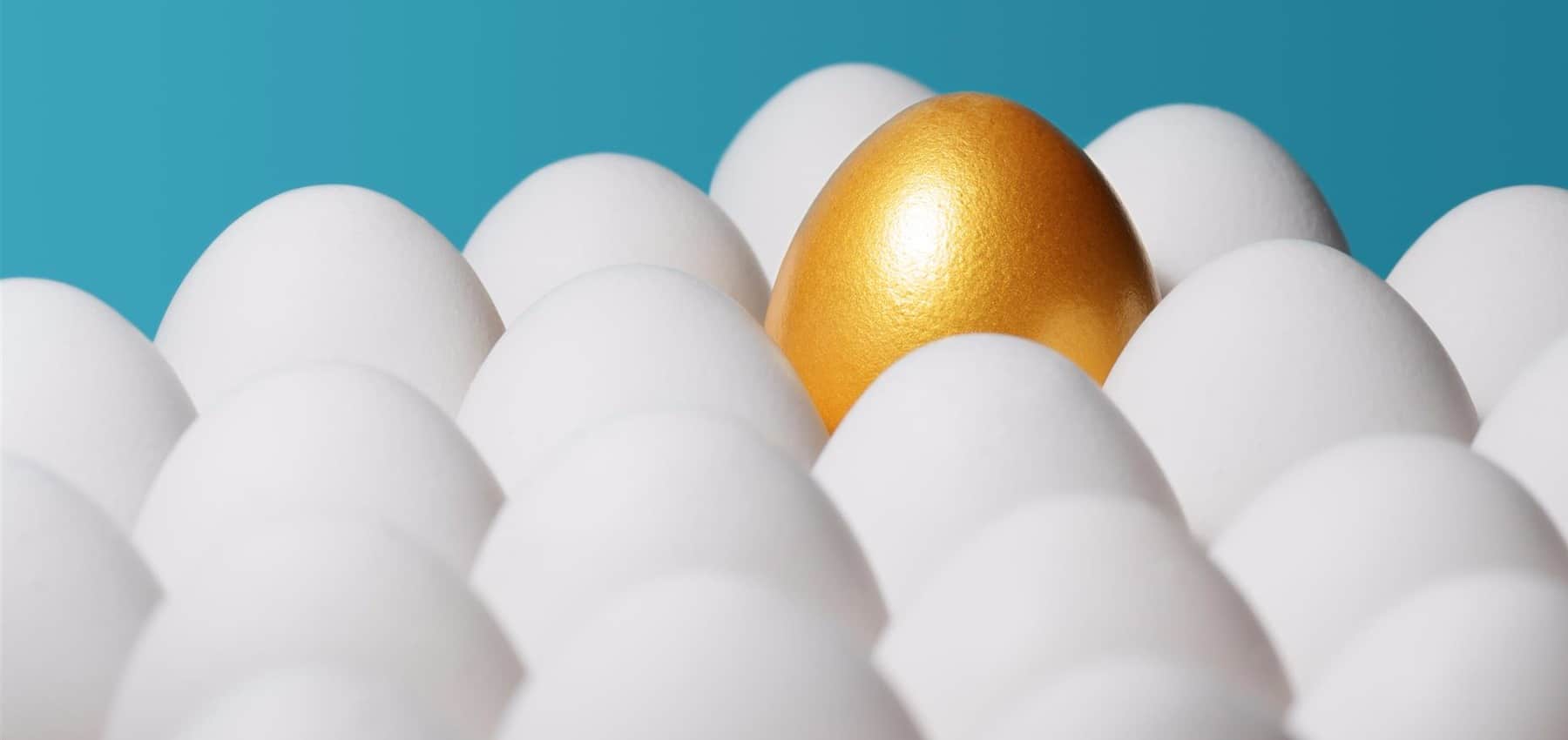 Dare To Be Different – Six Marketing Approaches
Watch

Closely and critically watch what everyone else is in your market is doing – what's brilliant, good, bad, shocking
Then evaluate and establish how you can do it differently creating a better customer experience

Embrace the new – this could be through a variety of aspects 

Technology – how might AI be used to differentiate your services
Culture – what if your staff could all work flexi time or from home. For many businesses the issue of Covid and working from home has transformed how they operate
Thinking – how does an industry different to yours solve a problem. So you may be an engineering company- you might look at how an airline deals with an enquiry and processes an order
Global – If you are based in the UK, how are things done in the US

Be bold and imaginative.

Without stereotyping certain industries attract certain types of people. So in an accountants practice you might find you have very logical, linear, non creative people.
If you currently hire people who don't have these attributes think about hiring a different type of person, or using 3rd party people with these attributes.

Challenge your customers –

Make them think, are they expecting the same old same old.
What if you were to give them a completely new experience

Are they die hard – we don't want / like change
Would they embrace things being done differently if it provided a better experience

How entertaining and enjoyable is it to buy from you.

Do you make your customers smile ( think of Mailchimp)
Can you shock your customers in a positive way.
Smiling or shocking may make you substantially different

Disruption – being a disruptor within your sector

How can you turn things upside down or look at things from a different perspective in order to stand out positively.
What if lead times were dramatically reduced, a lifetime guarantee ( think of the impact of the Kia 7 year warranty in the automotive sector), do something so different you stand out
Marketing Example: Marketing Dare To Be Different In The Food Sector
The trading performance of some supermarket retailers has been a roller coaster ride.
Almost everyday we read stories about how some are doing well whilst others struggle and are looking to reduce stores or make head office savings. For every success story Lidl / Aldi / Waitrose there is a story of Woe i.e. the main 4 supermarkets.
A food retailer nutcracker analogy
If you think of a nutcracker with a walnut in the middle.
On one handle is Aldi and Lidl (the cut price / budget  retailers)
On the other handle is Waitrose and M&S.
In the middle is everybody else and they are having there nuts crushed.
Factors Impacting Food Marketing
In 1963 food and drink as a proportion of income was 25%. In 2015 this reduced to 8%. So from £2.50 out of every £10 being spent on food this has reduced to less than a £1
Historically the big 4 supermarkets have relied on in store promotional items making over 40% of their sales.

Compare this to Aldi and Lidl who don't rely on promotional offers or pricing to sell

EDLP = Every Day Low Price – as the food retailers look to move away from Bogof and multi buys.

For some everyday value has led to the brands becoming farm orientated (note these may not be real farms}

M& S food on the motorways is a franchise operation.

Note Shopping for tonight represents 40% of food sales for M&S

Aldi and Lidl deliberately don't sell branded alcohol in store – this could be for a number of reasons.

It could be that they are looking to develop there own in house brands to the younger audience who are visiting the store and fancy a perfectly good bottle of whiskey and don't care that its called GlenBollo$&
Marketing Example: If you had a Small Boat For Sale, could you dare to be different in your marketing approach?
If you had a small row boat for sale what would be the best / most effective way to advertise to prospective buyers. We will consider how traditional offline marketing methods compare to the wonderful world of digital marketing.
We will consider the importance of imagery, copy and physical evidence. You may have noticed the colourful picture of the flowers that doesn't look at all like a small row boat for sale. That could be good or bad, but at least something grabbed your attention.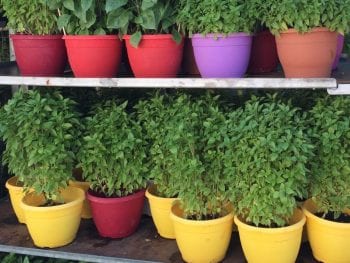 Small Row Boat For Sale Advertising Options
There are a number of ways that you could go about trying to make people aware of your small row boat for sale.
Advertising in the Local Free Press Classifieds
Advantages – Its potentially free, you are reaching your local audience.
Disadvantages – You are limited on the amount of characters / imagery plus what if your prospective customer isn't a local
A poster in your local chandlers / marina
Advantages – You are getting your message directly in front of your prospective target audience i.e. its boat owners who visit the chandlers. Who do boat owners know and talk to; other boat owners. So an advert here is almost like targeted direct mail (as long as it gets noticed). Additionally you could probably leave the boat at the chandlers so it could actually be seen and the chandlers could take a percentage of the sale price
Disadvantages -It will probably cost you money to place the poster. The audience will probably be very familiar with the item for sale so will know their stuff and negotiate harder, so more difficult to get a premium price (unless its a premium product)
E Bay (on line platform linking buyers and sellers )
Advantages – The platform is used buy people who are looking to purchase. You can categorise your small row boat for sale so that it appears in the area where people will be looking within Ebay
Disadvantages – Cost plus how do you get your product noticed ahead of others or achieve the optimum sale pricing
How can Farmers Buying Group differentiate themselves
For those involved in agricultural activities a farmers buying group can be the perfect format to allow them to make savings on core items that they use on their farm.
Essentially a farmers purchasing group acts as a co-operative whereby members purchasing requirements can be accumulated together and then the group can negotiate a discount against the bulk order volume.
These groups tend to be regionally based to allow savings to be made on distribution and delivery. What if you are positioned geographically that you could choose from a number of farmers buying groups – what would be the difference that makes you choose one over the others?
Advantages of Farmers Buying Group
Most Farmers purchasing groups will have a team of experienced and professional buyers whose sole role is to obtain best value for money across a comprehensive range of products and services required for day to day operation of a farm.
Typical goods and services include
Fuel – from heating oil through to petrol and diesel
Chemicals – where significant savings can be made on bulk volumes
Seeds – where they will deal with brand leading suppliers
Fertilizer
Animal Health being able to offer the wide range of potions and treatments
Machinery  – from log splitter's to augers, chainsaws to grease guns. The range of machinery is often large and provided through specialist suppliers within each category
Electricity – one of the core areas where it is possible to make significant savings when buying as a collaborative / co-operative group. Many new members are often astonished at the potential savings available through bulk purchasing this commodity
Vehicles – many well known manufacturers will provide discounts on vehicles to members farmers buying groups
Building materials from timber to concrete, fencing to roofing.
A buying group will often attend the local (or national) agricultural shows like LAMMA, Cereals, Driffield Great Yorkshire Show, World Ploughing Championships. By attending these events it allows members to meet up and network with other members plus meet with buying group buyers and discuss future / additional procurement need. Ideally they wil have a great website design that makes it easy to purchase and identify the benefits
Marketing Example: 3 Point Subsoiler
A 3 point subsoiler is a tractor mounted implement that is used to break up and loosen soil at depths below those typically achieved through traditional
ploughing,
disk harrow
or rototiller.
Typically tractor mounted cultivation tools will break up and turn over surface soil to a maximum depth of six to eight inches.
While a 3 point subsoiler has the capability to break up and loosen soil to twice those depths
3 Point Subsoiler features and benefits
Typically a 3 point subsoiler mounted to a Compact Utility Tractor will reach depths of about 30 cm (12 in). If soil compaction is a problem the 3 point subsoiler will help improve growth in all crops. For agricultural applications angled wings are used to lift up and break the hard pan that builds up through compaction. The design of the implement facilitates deeper tillage, it is suggested that some units can disrupt hard pan ground down to a depth of twenty four inches. There are various claims from manufacturers about the benefits provided in both dry and wet seasons
When used during dry and hot seasons roots are able to penetrate soil layers deeper to reach moisture and nutrients.
When used in wet conditions, any water passes easily through the broken up areas, thus reducing the possibility of crops drowning.
Typically agricultural subsoiler implements have multiple depth reach blades with each blade being called a shank or scarifier. Various sources indicate that common subsoilers for agricultural use are available with three, five or seven shanks. In some cases 3 point subsoilers can be up to fifteen feet wide. Mounting options range from some units that are towed behind tractors while others are mounted directly to a three point. Construction typically includes a one piece welded frame.
Manufacturers who are looking for additional growth are often tempted to consider the potential of exporting. Export Advice For Manufacturers is available from a wide variety of sources.
There are two important elements to consider
How qualified is the source of information / advisor to provide practical, relevant and timely help to your current export questions
Should you really be considering exporting as part of your growth strategy. Have you saturated the local market, if not then developing your local market could provide a far more effective strategy
Export Advice For Manufacturers
Before we consider the issue of export advice for manufacturers, lets consider what advice is available to manufacturers who are looking for growth. Many manufacturers start the process of considering export because they are looking for additional growth but have started to struggle within their home market. So the advice / help that the manufacturing company should be really looking for first is
Have I saturated the local UK market such that there is no further business available
If the answer is no and there would appear to be significant homeland based potential, what do you need to do differently to grow local business. If you have failings or weaknesses that are impacting on your capability of generating local business, what will change when you try and sell this product to an export market.
Its always best to make sure that the products or services that you currently provide fit are for purpose – specification, benefits provided , quality , availability, support, price etc If you get all of these elements sorted, once you have saturated the local market you may find that when you look to export you are ideally positioned to benefit from any advantages currency valuations may play at the time.
For more information on export advice for manufacturers click here or click here for a link that shows current export opportunities that UKTI is aware of.
Marketing Example: Thin Double Glazed Units – Technology For Heritage
Thin double glazed units provide the perfect solution for solving the glazing conundrum on heritage or historic properties that have previously suffered from the heat losses associated with older single glazing.
Being thin they match the visual aesthetics of the original glass but have significantly improved thermal characteristics. In this article we look at thin double units and the benefits they provide.
Thin Double Glazed – Why Units Are Needed
As the pressures increase both financially and responsibly to become more and more energy efficient, so do the energy performance gaps between aged / historic properties and new builds. The improvements in technology mean that construction materials are continually being developed that improve the overall performance and energy rating of buildings. Unfortunately many of these new technologies just aren't suitable for historical properties for a variety of reasons. This can leave older properties expensive to run and sometimes uncomfortable to live in as the drafts and cold penetrate.
Thin Glazed Units Designed for heritage
Thin double glazed units like those manufactured by The Original Glass Company have been designed specifically with historical and heritage properties in mind, and offer the following
improved heat retention therefore lowering energy consumption,
due to the excellent acoustic characteristics improved noise reduction noise
The very nature of the double glazed units means that an element of improved security is achieved
all while still retaining the original aesthetics of the building.
Ultra slim sight lines
The main structure of the unit is hidden by the original beading or putty used for installation providing Ultra slim sight lines. A wide variety of glass types are available in this format
Float,
Machine Drawn,
Cylinder
Hand Drawn
All allowing you to ensure the original period look of your property is preserved. For ultra slim web design click here
Marketing Example: Asbestos Duty Holder
What does the duty to manage asbestos involve?
The duty to manage asbestos is part of the Control of Asbestos Regulations 2012. The duty requires you to manage asbestos risk by:
Identifying if there is asbestos in the premises (or assessing if asbestos containing materials are potentially in situ and making a presumption that these materials may contain asbestos. Note unless you have information / evidence that they don't), its location and its condition
Both making and keeping up-to-date records of the locations and conditions of the ACMs or presumed ACMs within your premises
Assessing the potential risk from the asbestos materials
Preparing a written plan that covers in detail how you are going to manage the asbestos risk
Taking the required steps necessary to put your asbestos plan into action
Reviewing and monitoring your asbestos plan
Establishing a system for providing information on the condition and location of the asbestos to anybody who is likely to disturb it or work on it.
Important:

Anybody who has information on the location of asbestos within your premises is required to make this available to you as the duty holder.
Note: as the asbestos duty holder you will need to assess its reliability.
Those who are not asbestos duty holders, but control access to the premises, have to be cooperative with you in managing the asbestos.

Although you can appoint a competent person / professional UKAS asbestos management company to carry out all or part of the work to meet the requirements of the duty, as the asbestos duty holder you will have to be involved in the final assessment of the potential risk. Specifically you will need to know how the premises are used and what potential disturbance is possible.

Remember, as the asbestos duty manager the responsibility for complying with the duty to manage the potential risk remains yours if you are responsible for maintaining relevant parts of a building.

Asbestos duty holder check list

Step 1 Find out if asbestos is present
Step 2 Assess the condition of any ACMs
Step 3 Survey and sample for asbestos
Step 4 Keep a written record or register
Step 5 Act on your findings
Step 6 Keep your records up to date