A website design agency that fully understands the importance of UX (user experience) is crucial if you want your website to perform and do more than just look "pretty". In this article we will go through the principles of UX and how it integrates with great graphic elements.
Website design UX (user experience) is the design process used to create websites that provide a relevant and beneficial experience to users. This process is complex and involves the mapping and design of the entire process of acquiring and integrating the product.  Included in the process are aspects of branding, design, usability and function.
"User Experience Design" is often used interchangeably with terms such as "Usability" and "User Interface Design". However, whilst both are important they are elements of UX design.
Usability is a measure of how well a specific user in a specific context can use a product/design to achieve a defined goal effectively, efficiently and satisfactorily.
To ensure maximum usability, designers usually measure a design's usability throughout the development process from initial sketches and wireframe development through to the final website.
Usability is about human behaviour. It recognises that humans are lazy, get emotional, are not interested in putting a lot of effort into, say, getting a credit card and generally prefer things that are easy to do vs. those that are hard to do."  — David McQuillen
User interface (UI) design is the process designers use to build interfaces in software or computerized devices, focusing on looks or style. Designers aim to create interfaces which users find easy to use and pleasurable. UI design refers to graphical user interfaces and other forms for example more recently, voice-controlled interfaces "Ask Siri"
To design UIs best, you should take into consideration that users (customers) judge designs quickly and care about usability and likeability.
Most importantly – they don't care about your design, but about getting their tasks and information as easily as possible with minimum effort.
Your design should therefore be almost "invisible", so that users don't focus on the design but on completing tasks: e.g. requesting a quote as per the High Tip Bucket site.
So, understand your users' contexts and task flows which you can find from completing customer journey maps. This then allows you to fine-tune the best, most intuitive user interfaces that deliver seamless experiences
UX design covers a vast array of other areas, too and is concerned with the entire process of acquiring and integrating a product, including aspects of branding, design, usability and function. Some might say that UX design is as the very heart of marketing and understanding at the deepest level what is of importance and value to a customer.
What are Customer Journey Maps?
Customer journey maps are used to map the relationship between a customer and an organisation over time and across all channels on which they interact with the business. A website design agency uses customer journey maps to see how customer experiences meet customers' expectations and find areas where they need to improve website design.
Customer Journey Maps – Tell Customer Stories
Customer journey maps are research-based tools which website design agency teams use to reveal typical customer experiences over time. They visualise the many factors and dimensions involved as a visitor navigates through a website. This enables businesses to learn more about target users.
Website Design Agency members examine tasks and questions (for example "what-ifs") relating to how a website design meets or fails to meet customers' needs over time as they navigate through the website.
Customer journey maps should therefore be detailed-information rich timelines that show the most important sub-tasks and events. Over this timeline framework, you add insights of what customers think and feel when proceeding along the timeline.
A typical website customer journey map should include:
A timescale – a defined journey period (e.g., 1 week) including selected areas from awareness to conversion and beyond.
Evaluation / Purchasing Scenarios – the context and sequence of events in which a user/customer must achieve a goal (e.g., a user wants to request a quote or product demonstration on the phone), from first actions (recognition of a problem) to last actions (e.g., demonstration request).
Touchpoints – what customers do while interacting and how they do it.
Channels – where they perform actions (e.g., website).
Thoughts and feelings -what the customer thinks and feels at each touchpoint. Note even on B2B purchases emotion plays an important part of the purchasing process
How to Make Customer Journey Maps for Exceptional Experiences
To create a website customer journey map, follow these seven steps:
Define your Customer Journey Map's Business Goal – Clarify who will use your map and what user experience it will address.
Conduct Research – Use customer research to determine customer experiences at all touchpoints. Now this is Very important as we need to step into the customers shoes and get their perceptions of what is of importance and value. This is the point at which many companies and designers miss out – never taking on board the customers issues.

As well as analytical and statistical data get anecdotal evidence through, e.g., customer interviews, surveys, customer panels and competitive intelligence.

Review Touchpoints and Channels – List customer touchpoints (e.g., download a Technical Data Sheet) and channels (e.g., online). Look for additional touchpoints or channels to include. For example prospects first touchpoint might be seeing your equipment / product in action on site
From discussions with customers make a customer feelings map.

Clearly establish what the customer does, feels, thinks, hears, says, etc. in a given purchasing situation.
Then, determine their needs and how they feel throughout the experience.
Important tip – we would always suggest that you focus on any barriers and sources of annoyance through the process.

Draw the Journey – Join together everything (touchpoints, timescale, feelings map output, new ideas, etc.) however works best for you (e.g.,some create a map, others like more traditional process flow maps).

You need to clearly show a customer's course of motion through touchpoints and channels across the timescale, including their feelings at every interaction.

Iterate and Refine – Revise and transform your mapping into the most accurate version of the ideal customer journey.
Share with decision makers – Ensure everyone in the marketing and sales process within your business has the customer journey map. Not only do they need to have it, they need understand it and appreciate how its use will bring beneficial changes to customers across the business.
Website User Experience
Products that provide great user experience (e.g., Moving Floor Swimming Pools) are  designed not only for the product's use but also the entire process of acquiring, owning, using, maintaining and even troubleshooting it's use.
Similarly, website design agency UX designers don't just focus on creating websites that are usable; they concentrate on other aspects of the user experience. These could include speed, ease, detail and simplicity.
This means there is no single definition of a good user experience. As many a professional marketer has said "It depends". A good website user experience is one that meets a particular user's needs in the specific context where he or she uses the product.
Website Design Agency Designers consider the Why, What and How of website use for UX
Website Design Agency UX designers, consider the Why, What and How of product use.
Why involves the users' motivations for adopting a product, whether they relate to a task they wish to perform with it or to values and views which users associate with the use and ownership of the product.
What considers the things people can do with a product—its functionality.
How relates to the design of functionality in an aesthetically and accessible pleasant way.
Website Design Agency UX designers start with the Why before determining the What and then, finally, the How in order to create websites that users can complete meaningful experiences. With website designs, you will need to ensure the website's "substance" comes through on laptop and mobile devices and offers a seamless, user friendly experience.
UX Design is User-Centred
Since website UX design encompasses the entire user journey, it requires skills from a variety of backgrounds such as visual design, programming, psychology and interaction design.
To design for "all" human users means you have to work with a heightened scope regarding accessibility and accommodate many potential users' physical limitations, such as reading small text. The wave web accessibility evaluation tool allows you to check your site for accessibility
A website design UX designer's typical tasks vary, but often include user research, identifying the target audience and creating personas, designing wireframes and interactive prototypes as well as testing designs.
These tasks can vary greatly from one website design agency to another, but they always demand website designers to be the users' advocate. It is crucial they keep the visitors / users' needs at the centre of all website design and development efforts.
The Why, What and How of UX Design

UX Design is User Focussed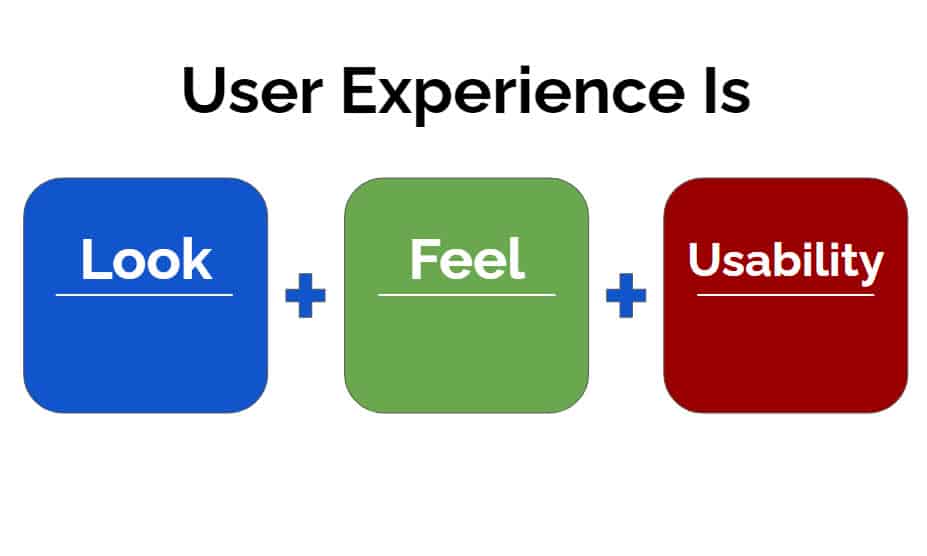 The difference between website UX Design & Graphic Design
If there's an occupation that is 100% linked with the public's idea of what design is all about, it's graphic design. From the familiar swoosh of the Nike brand to the typography and colours of movie posters. Graphic designers have created some of the most iconic and ubiquitous designs around us.
So a graphic designer can create a great looking item where as a UX designer gets "under the hood" of the products you work on rather than working on the exterior.
What is User Experience and User Experience Design?
The website user experience (UX) is what a user of a particular website experiences when using that website. A UX website designer's job is thus to create a product that provides the best possible website user experience.
Website UX happens with a lot of research. You can't create anything of value to a user unless you understand what kind of problems they want to solve and how you can solve those problems. Ultimately so that the user will want, or better still, need your solution. You can only get that understanding by interacting with users. Note – how this description of website UX sounds just like "Marketing"
Website UX designers tend to be concerned with, 3 primary factors: the look of a website, the feel of that website and the usability of the website.
The look of a website is all about creating a website that has visual appeal and which, in particular, combines with a user's values and captures the spirit of what they expect in that product. Put simply, it has to look nice, and look right too. In doing so, it establishes a bond of trust and credibility between the product and the user.
Feel, is about developing websites that are "a joy to use". That is, whether you're interacting with them or reacting to them, websites should provide a pleasurable experience and not just a functional one.
Usability is the cornerstone of user experience. If a website isn't usable, the experience of using it can never be good. UX designers want to create websites which can, ideally, be tailored to meet a user's specific needs, but which provides functionality that is predictable.
The Differences between Graphic Design and UX Design
User-focused vs pixel-focused
For good reason graphic designers tend to pursue pixel perfection in their designs. Ensuring that texts have perfect kerning and colours conform to brand guidelines often take up a significant portion of graphic designers' job.
Website UX designers, however, are primarily focused on users. They study the interface between users and the website, finding ways to ensure that the website answers to the user's key needs.
They do this by conducting a lot of customer research, by talking to and observing users, creating user personas and stories, doing usability testing on the website, and more.
Iterative problem solving
UX website design is very much an iterative problem solving process, and it can be very different from the role of a graphic designer.
It begins with the identification of a problem; this is often found through user research, and if it's not, it will then be confirmed through user research. There is no point in solving problems that users don't care about; they won't pay to solve those problems, and that means your business are unable to commercially benefit from.
From the problem identification stage, more research is conducted into how best to solve the problem in a way that the user will be happy with—usually via observations, surveys,  studies, focus groups etc.
This research then informs the website design. Designs are then tested with users to see if the research led to the right solutions. The designs are constantly iterated until research confirms that they are good enough.
Once this happens the website is launched, but the design process is not over. The website design will be continually tested and user feedback will be taken, thus beginning a new round of user research. Future improvements to the design will be made based on this feedback.
Multi-disciplinary vs specialised
Graphic design is a specialized discipline, and there is a certain level of craftsmanship and set of specialized skills (such as typography and colour theory) required to produce great visuals.
UX website design, on the other hand, is much more multi-disciplinary alike marketing and involves many knowledge elements. UX designers have to constantly learn about human psychology, interaction design, information architecture and user research techniques, just to name a few, in order to create the right solutions to a user's problems.