Having conducted detailed analysed of numerous websites as part of the business development process we have identified 8 fundamental web mistakes.
These can significantly impact on the performance of your website and its ability to generate leads or make sales. In this article we look at 3 fundamental web mistakes
Website Failure 1 – Great Content Never Seen (below the fold)
Is your website failing by having its best website content is "below the fold"
The fold should be considered as the red dotted line illustrated. So its the visible content that people can see on their visible screen. When people land a home page or early stage page they are looking to be able to navigate as quickly as possible to the content as is possible. So may not bother scrolling if they don't see what they are looking for.
Note 1: Once a person gets to the level of specific content that they are looking for then a person will quite often happily scroll as they get more and more information (and don't want to be navigated away)
Note 2: We can use analytics to identify accurately the level of content and scrolling that takes place on each page
Website Failure 2 – Not Mobile Responsive
Is your website designed to provide an optimum experience when viewed on a mobile device. In April Google announced changes whereby it would look favorably at websites that were designed to provide a good experience when viewed on a mobile device
Website Failure 3 – No Call To Action / Datacapture
Many websites just contain passive information with no opportunity for the visitor to interact. Importantly many do not feature any mechanisms / reasons for a visitor to leave their information. If you are lucky enough to get a genuine visitor to your site the likelihood is that they are looking for information. Why not encourgaee them to leave their contact details so that you can contact them . Is your website failing by not having Call To Actions or Offers that the visitor views as worthwhile.
4. Not Using Google Analytics
If you cant measure you cant manage. In a recent digital marketing event where I presented I asked the audience of over 25 companies how many of them looked at the analytics of their site.
Less than 10% of the  companies did, which is unfortunately puts them at a disadvantage when looking to develop their sales and marketing activities.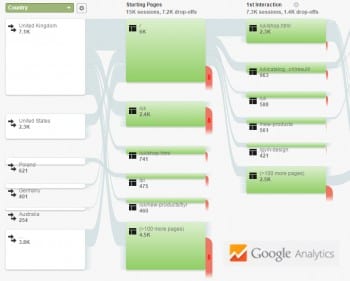 If you don't have Google Analytics installed on your site then get it installed. It is a straightforward activity that is easily done by a competent person. Unfortunately it cant be fitted to gain retrospective data, so until you get it fitted you aren't capturing any information on your sites performance.
If you have Google Analytics then it produces a mass of data! Without correct interpretation this can be misleading, so make sure you either learn how to use it correctly or get someone who has expertise in the field to interpret it for you. The knowledge on the Audience, Acquisition and Behaviour that you can gain from accurately reviewing the Google Analytics  is fundamental if you want to develop your site effectively.
Analysing your web site is way more than just impressions and bounce rates. If you want to make improvements to your site (and improve its ability to generate sales and leads) you must be analysing its performance on a regular basis.
5. Old Out Of Date Content
Quality unique content is critical and the life blood of a website.
What do you think when you go to a website and see that the latest news is a few years old, or in this case on the right last edited in 1995.
Website content comes in many forms; news posts, imagery on pages or sliders, call to action buttons, new pages, videos , events etc. A recent survey we conducted identified that
Many companies had not changed the front page of their site since it was first built many years ago
At best they were adding some new content (typically news posts) every couple of months
Is your website failing by not having news content for added over a year
So at this stage please refer to point 4 Google Analytics above. Is the existing content and structure of your site performing at an optimum level? What additional content could you be adding to the site that would be useful to visitors.
Google is typically looking for three pieces of unique quality content to be added to your site every week (these pieces which can be posts, should each be a minimum of 300 words long). If you are struggling to identify content ideas please request our content generator crib sheet simply e mail solutions@bdolphin.co.uk with Content Generator Crib Sheet in the subject title and we will send it to you.
6. Difficult To Find The Telephone Number
Unless you are a business that doesn't want the phone to ring, in our opinion there is no reason not to have the telephone number on the top nav bar of every page.
Many people are using the web to simply get a phone number, so it makes sense to have it easily cheap adderall visible, whatever page a person lands on your site. Now if you have your site set up correctly then when someone accesses the site from a mobile they will be able to click on the number and dial directly.
Checkout where are the phone numbers on your site
Is your website failing by having phone numbers at the bottom of the page – how many people scroll to the bottom (please refer to Point 5)
If only on the Contact Us page – how easy is it to find this page
Would it be useful from a tracking perspective to have different telephone numbers on specific call to action pages. Whereby you could accurately track the number of inbound calls to these numbers
7. Poorly Integrated With Social Media
Irrespective of whether you love it or hate it, social media is with us and impacting on your website and business. Your business should really have business profiles created on Google +, Facebook, LinkedIn, Twitter, You Tube and possibly even Pinterest. If you have these profiles created, the next challenge is to keep them updated with content.
If you integrate your website with your social media profiles as you add news content to your website you can immediately publish this content to your social media profiles. The two main advantages being
Once you have approved the editorial content for your website it can be published simultaneously to your social media profiles -(No wasting additional time to find content for your profiles)
Social media profiles can have an impact on your Google ranking so by updating things like Google + can have an added advantage to your SEO
8. Is Your Website Failing By Being Difficult To Navigate
Many sites are not designed with the potential customer in mind rendering them difficult or impossible to navigate.
There are two main navigation routes
How do you get the visitor who lands on your home page to the information they are looking for
From a specific landing page (found because  content specific or they were directed to this page – perhaps from an e mail)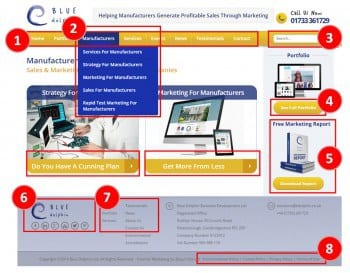 Navigation types
There are a variety of navigation techniques / approaches
Top Navigation Menu – those items / headings that are critical
Drop Down Menu – providing simple navigation within a section
Search box – works like Google search for content within the site
Buttons – provide direct navigation to a specific page
Call To Action buttons – Use of a headline, image and button to stimulate a click
Social Media Icons – note these are at the bottom of the page and allow a visitor to access all the social media profiles
Bottom Navigation menu – a simplified repeat of the top navigation menu when someone has scrolled on a long page
Footer navigation – providing quick access to policies and other secondary information
All of the above can be developed in a range of styles and complexity.
How easy is it to navigate through your site
Is the language on your navigation headers easy to understand
Are your calls to action obvious
Can you easily navigate back to the home page
Is it easy to identify where you are in the site
By evaluating your Google Analytics you can establish how easily and willing people are to navigate within your site.
Find Out If Your Website is Failing
If you would like your website reviewing to identify if it could be improved as a lead generation and sales tool. Please call Andrew Goode on 01733 361729 or click here. For more information on marketing and websites click here